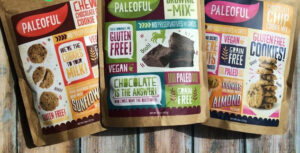 Almond flour, organic coconut sugar and sea salt are the main ingredients in the most delicious (and guilt-free) cookies I've tasted in a while.
Founded at the end of last year, Paleoful – the product I used to impress my dinner guests last night with an exceptional dessert – is a vegan, paleo, gluten-free cookie mix formed by Lauren Montalette and her longtime boyfriend in Salt Lake City.
The pre-packaged mix only requires two teaspoons of any kind of milk (I used coconut), 1/4 cup of light tasting oil (I used melted coconut oil) and an optional one teaspoon of vanilla flavoring (I used it). After combining the mix with additional ingredients, I flattened two tablespoons of dough in my hand to make flat disks, coming out to 12 pieces, which – after baked for 13 minutes – were pure heaven.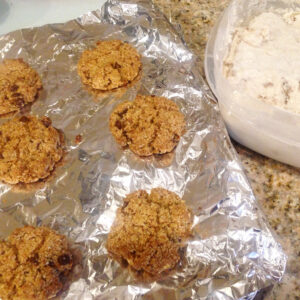 I'm not vegan, but I'm incredibly sensitive to sugars and sweets (even chewing gum is a bit much for me), so when I nibbled on these little treats, I could tell by the way I felt that I wasn't putting anything harmful into my system.
I also put together a vegan ice cream concoction, which contained some ingredients similar to the cookies (except obviously frozen instead of baked). So, it became perfect for ice cream sandwiches!
Paleoful also provides a brownie mix and another chocolate chip cookie mix, but made with sunflower seeds instead of almonds. The products can best be purchased online.