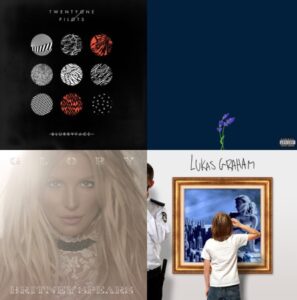 For so many people, 2016 is considered the worst—and the selection of music releases this year has been no exception to contributing factors.
From Meghan Trainor's typically obnoxious, overbearing ditties to Lady Gaga's eyeroll-worthy "comeback," to some very questionable collaborations, I just could not with these year's tunes.
But it's not all bad news, folks! Come back tomorrow for my list of 2o best songs of 2016!
In the meantime scroll below to see my least liked (in particular order):
20. "Starboy" – The Weeknd f./Daft Punk
The Weeknd's album with this song's same name is definitely not a disappointment, but the song itself is douchery at its (not so) finest.
19. "For Free" – DJ Khaled f./Drake
UGH. Again, douchery at its (not so) finest. Sorry, call me a hater, but present-day Drake is so annoying.
18. "Million Reasons" – Lady Gaga
I'm sure I speak for others when I say I'm not buying Lady Gaga's folky, "real me" schtick. I think people want to hear and see her based on the reason they liked her in the first place: her over-the-top character image and her poppy persona. I don't take this Joanne nonsense seriously at all. I mean, heck, I am the first to admit I even love Artpop, for crying out loud!
17. "Don't Wanna Know" – Maroon 5 f./Kendrick Lamar
For such a strong lyricist, you'd think Adam Levine could come up with something a little more crafty than "I don't wanna know, know, know, know who's taking you home, home, home, home and loving you so, so, so, so…" Also, I have an issue with songs that throw rap verses in when it doesn't really serve a purpose.
16. "Hymn for the Weekend" – Coldplay
Come on, Coldplay, you can do so much better than this!
15. "oui" – Jeremih
I've never been much a fan of Jeremih, and this whiny, pathetic track (with terrible lyrics to boot) doesn't help his case. "Hey, there's no we without you and I" (<–well, duh!)
14. "Me, Myself & I" – G-Eazy f./Bebe Rexha
Luckily for Bebe Rexha, she had some decent material this year, post-this horrible song. G-Eazy on the other hand? I can't get behind any of his 2016 material.
13. "Never Be Like You" – Flume f./Kai
As someone who has been listening to Flume since 2012, this radio-heavy track is such a terrible downgrade from the Australian's incredible signature, under-the-radar experimental electronic sound. In fact, the whole Skin album is a disappointment. Sorry.
12. "One Dance" – Drake f./WizKid and Kyla
I meannnn…. see No. 19
11. "I Took a Pill in Ibiza" – Mike Posner
I totally agree with Time's take on this song (in fact, I agree with most of Time's 10 Worst 2016 Songs list altogether): "Originally conceived as a folksy pop song in the vein of Jason Mraz, there was something clever about Posner's withering takedown of drug-taking EDM bro culture. But the much more popular Seeb remix sapped it of its wit, turning it into the exact thing it was satirizing. What a comedown."
10. "A-YO" – Lady Gaga
It's funny how we go from last year's No. 1 skyelyfe track "Ayo," by Chris Brown and Tyga, to this cringeworthy country-pop tune by Lady Gaga. Yes, I'm aware they have nothing in common except the title, but still, this a far cry from the 2015 tune.
9. "Bad Things" – Machine Gun Kelly & Camila Cabello
I saw Machine Gun Kelly live in 2011 at the now-defunct West Hollywood House of Blues, where he was another white, aspiring gangsta rapper. Welp, guess that life didn't pan out for him so well, because now he's lending his lyrics on a terrible hip-pop rendition of Fastball's "Out of My Head" with now-former Fifth Harmony member Camila Cabello.
8. "NO" – Meghan Trainor
The song's title speaks volumes.
7. "Me Too" – Meghan Trainor
If you've followed me on social media at all this year, well, you know all too well how I feel about a particular artist…
6. "Make Me…" – Britney Spears f./G-Eazy
The only thing worse than this song is quite possibly the music video (but, at least with the video, it's entertaining in its own special way). It's hard to believe this was the first single from the hotly anticipated Glory album. The album was actually pretty good, but with this (among a few others) as the so-called "breakouts," it definitely didn't sell me.
5. "Heathens" – Twenty One Pilots
The two Twenty One Pilots dudes said it best themselves at the American Music Awards: "I think we're only getting these awards because we were the ones who showed up!" Yeah, I mean their songs got more play than almost any others I heard on the radio this year, but that doesn't necessarily mean anything. I would definitely be a-ok with never hearing them again!
4. "7 Years" – Lucas Graham
I think I speak for many when I say I have no idea what this dude is talking about, and quite frankly, I haven't been able to make it all the way through the song to find out.
3. "Private Show" – Britney Spears
See the third sentence in No. 6
2. "i hate u, i love u" – gnash f./Olivia O'Brien
The only thing that gets me misty-eyed over this melodramatic, aspiring tearjerker of a tune is that it got so much airplay this year. OY so bad.
1. "Stressed Out" – Twenty One Pilots
See No. 5
[divider_flat]