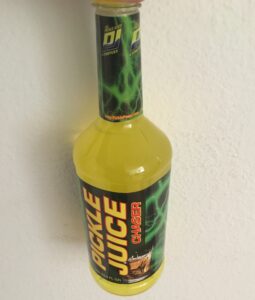 Lemon, lime, soda – what do these have in common? They are among the most popular cocktail accompaniments and chasers.
But when we think of our stocked bar musts, it's doubtful that pickle juice comes to mind. Am I right? But this Potassium-filled liquid has been used with alcohol for years, and complements shots of whiskey (Picklebacks) and tequila (Tijuana Hookers) so well that a new brand is on the market in huge bottles known as the Pickle Juice Chaser.
The PJC is built on the functional properties of pickle brine. It has the added benefit of providing ten times more electrolytes, along with vitamins, potassium and zinc.
Given that I fully abstain from tequila, and whiskey is far from my go-to, I didn't really ever have any use for the juice in the past. But when I was recently gifted whiskey on two occasions in the same week, I figured I may as well see if this pickle juice trick lived up to its reputation. Sure enough, between friends and I, we were flying through bottles, realizing that this magical little chaser worked with pretty much any type of alcohol (I mean, use at your own discretion, of course – it does taste like pickles). It really helps rid the burn and harsh taste of some of the more potent selections people tend to sip. And it can be used for specialty cocktails as well (scroll to the very bottom for recipes!).
After more research, I found that The Pickle Juice Company (which launched the aforementioned one-of-a-kind chaser) also has a line fully devoted to athletes, as apparently pickle juice helps prevent muscle cramps, and is sugar-free, caffeine-free, GMO-free and gluten-free, unlike so many of the sports drinks on the market.
It's only Tuesday, but hopefully the below recipes will have you feeling a little adventurous come the weekend – Cheers!
Dill Pickle Martini
2 oz. dry gin
1/4 oz. dry vermouth
1/2 oz. Pickle Juice Chaser
1 slice of a dill pickle (for garnish)
Put ice in a mixing glass and add the gin, vermouth and Pickle Juice Chaser. Stir for about one minute. Strain the liquid into a martini glass and garnish with a dill pickle slice.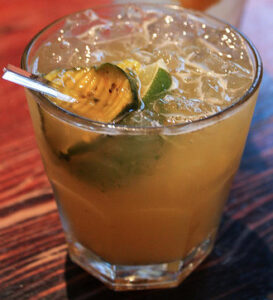 The Pickled Surfer
1 1/2 oz. whiskey
1/2 oz. Pickle Juice Chaser
Juice of 1/2 of a lime
Old bay seasoning for garnish (optional)
A few pickle slices (optional)
In a glass with ice, mix together the whiskey, Pickle Juice Chaser and lime juice and stir. Garnish with a lime wedge and a pickle slice sprinkled with old bay seasoning.