It's Black History Month—and based on where we live, it's important to acknowledge the people, places and things that have made a cultural imprint among the City of Angels' BIPOC community. A great place to start? The best BIPOC-owned restaurants in LA.
Los Angeles is rich with culture in the kitchen. From vegan and vegetarian options, to worldwide cuisine, this melting pot has something for everyone. Whether it's plant-based, too-good-to-be-true bowls and wood-fire pizzas, to slow-cooked barbecue and Insta-worthy gumbo, there are plenty of mouthwatering bites around L.A. to choose from. Therefore, highlighting the influence the Black community has made on the city's culinary landscape in an absolute must.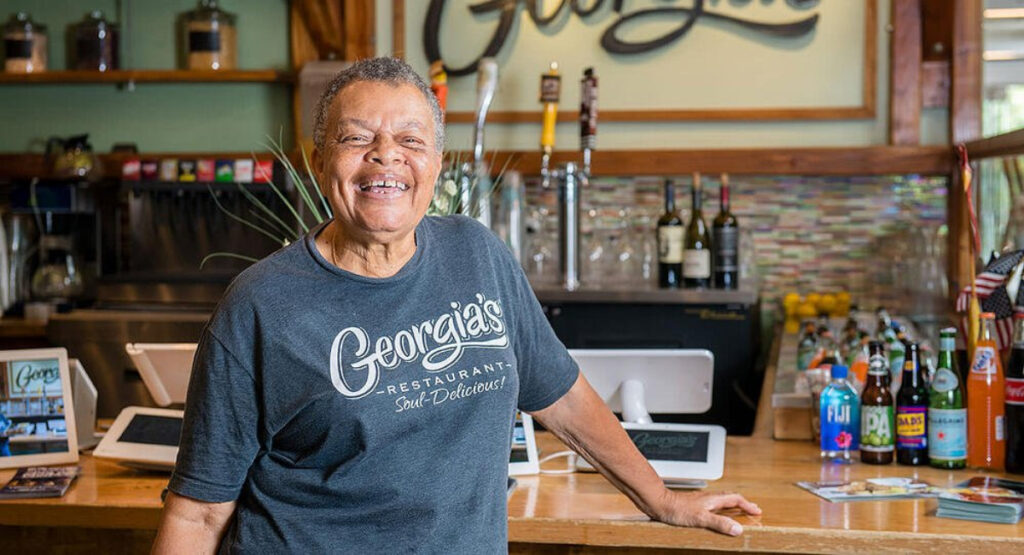 The very first BIPOC-owned restaurant that we truly connected with is Georgia's! The flavors and texture the restaurant uses in its dishes are simply otherworldly. Whether you're doing the cooking at home, using the best products on the market (like THIS wet batter created by Chef Jay) or dining out, this city has plenty to offer.
Don't take our word for it—check out this insane spreadsheet, inspired by food journalist Kat Hong, which lists more than 100 African-American food businesses across the city!
But to help you narrow it down, keep reading for our personal list of the five best BIPOC-owned restaurants in LA to support through Black History Month and beyond.
A list of the best BIPOC-owned restaurants in LA wouldn't be complete without this mention. The BBQ joint is well-known, and for good reason: It's solid! Be sure to place an order ahead as there's always a wait and items do sell out. Here you can get pulled pork, dry-rubbed chicken, or crave-worthy handmade sausage links. Of course, staples including the brisket are worth a stop at this establishment alone, and it just so happens to be an unspoken favorite. You'll also want to be sure not to skimp on the desserts! The Peach Cobbler is mind-blowing. It even gives Patti LaBelle's pies a run for their money. If cooking at home is your jam, you can even order a frozen rack of ribs or frozen Texas hot links, vacuum-sealed to grill at home.
609 N La Brea Ave, Los Angeles, CA 90036
Not every restaurant has the pleasure of making it onto the late Jonathan Gold's List of 101 Best Restaurants. This establishment makes the cut on his prestige list and many others, including the Michelin Guide's California Family Meal. This fine dining destination merges many flavors to the fore-front at once. From a slow-cooked chicken dish (that takes three days to make) to its renowned vegan-friendly sides and the most perfect flatbreads, this restaurant boasts a strong variety in addition to a general appeasing of the palette. Currently they're only open from Thurs. – Sun., so get your fix while you can.
1053 S Fairfax Ave, Los Angeles, CA 90019
Located in a relaxed neighborhood, Undregrind Café is not your average coffee shop. The menu spans from unique lattes and pressed juices to impressive breakfast items which are infused with Cajun flavors. The Bayou Burrito for example is composed of scrambled eggs, shrimp, Cajun sausage, red and green roasted peppers, white onion, hash browns and cheddar cheese. Whatever you order, be sure to try out the sweet cream pancakes!
2713 S Robertson Blvd, Los Angeles, CA 90034
Dulan's is a second-generation soul restaurant that's been serving the community for nearly 50 years! One of their mottos is "Serving you, as you support us." The menu is chock-full of true Southern gems such as smothered chicken, fried chicken and collard greens which are the backbone of this beloved soul food establishment. This is also one of the few places that does oxtails right! Whatever you order on the menu, know that it'll be of highest quality. Order online from this local favorite and be sure to save room for the sugar-dusted peach cobbler. 
4859 Crenshaw Blvd. Los Angeles, CA 90043
This hidden gem in Long Beach serves some of the best Cajun foods you'll find on the West Coast. The explorative menu thrives off Louisiana staples, including alligator, jambalaya, crawfish étouffée and gumbo. Meanwhile, they don't ignore Southern classics including tri-tip and mesquite BBQ slowly smoked to perfection. With a prime waterfront location, you'll feel like you're right back in the New Orleans bayou!
429 Shoreline Village Dr. Ste H. Long Beach, CA 90802
Looking for even more ways to support the BIPOC community in L.A.? Click HERE!