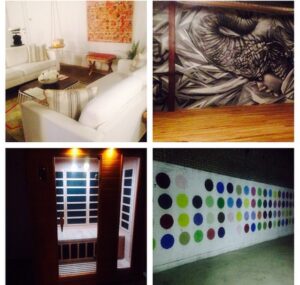 Give your mind a break from the hustle, bustle and one-way street insanity you associate with Downtown L.A. and take in the calming, zen atmosphere of The Springs, a total detour from the DTLA stereotype.
The urban wellness oasis and raw vegan restaurant – located on 608 Mateo Street – just celebrated its six-month anniversary over the weekend, and I had the pleasure of being invited to come in for a first-nibble of chef Michael Falso's latest tasting menu, paired with an array of brand new sake-based cocktail recipes ranging from savory to sweet – all made with variations of The Springs' popular pressed juices. I enjoyed my meal to the sounds of live music playing by a few-person band in a back corner just away from the dining area.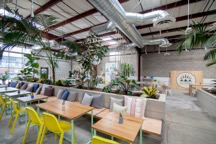 My personal pick of the appetizers and dishes were the rangoons, which were small, but flavorful and fulfilling beyond belief. Made with coconut wonton, "old bay" cream cheese, bell pepper, celery and sweet chili sauce, it was pretty clear off the bat that these bites would be worth savoring.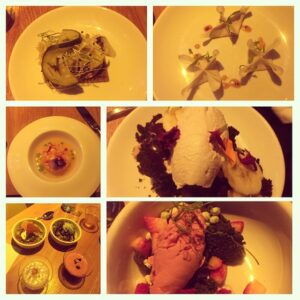 Other noshes included a "Reuben" – which definitely got its point across with its Caraway "rye" bread, marinated mushrooms, Thousand Island dressing, sauerkraut and dill pickles – along with a seaweed Caesar salad, a nacho salad, a cashew cheese plate and two desserts. That sweet pea cake and black chocolate cake with vanilla bean "ice cream" I absolutely could not put down.
The beverages (I still can't believe sake was the only liquor ingredient in all of them!) were seemingly endless. And the variety was impressive! I tried everything from a pickled jalapeno-infused Desert Flower (my favorite) to a Smokey Mountain, which resembled a Manhattan.
Had I come in a little earlier, I would have taken advantage of one of the various forms of yoga the spot has to offer, or I would have relaxed with a massage or infrared sauna treatment. In fact, going back to a post I wrote a few weeks ago about wellness deals in L.A., The Springs offers free meditation once a day at 1:00 p.m. on weekdays, led by Gloria Baraquio.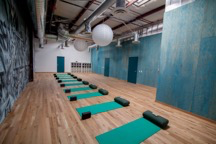 For $59 a person, you can get your very own taste of The Springs. Chef's tastings are subject to change daily, but the restaurant's full menu offers a slew of breakfast options (served all day), desserts, snacks, salads, entrees, coffee beverages, you name it. Check out all of the options here.
[divider_flat]