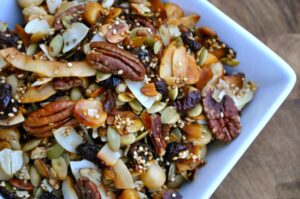 If you've ever been to my apartment or have spent more than an hour with me in one sitting, then you know how dependent I am on mixed nuts. Whether for breakfast, in-between meals, after working out, midnight snack – you name it – I go through bags of these things more frequently than Kim Kardashian snaps selfies.
I would love to opt for pre-packed trail mixes, which help with portion control, but these typically contain raisins (aka the grossest things ever, not to mention they are made up of pretty much pure sugar) or other sugary indulgences (ie. banana chips and M&Ms).
I am fed-up with over-snacking, so I have researched healthy (yet still satisfying) ways to enjoy mixed nuts without going overboard. I have taken some of my favorite findings and kept in only the healthiest and tastiest ingredients to come up with my own concoctions.
See below for 8 fast and flavorful recipes (snack at your own risk!):
1. The Flavor of Fall – Pecans, maple granola, pumpkin seeds, nutmeg, cinnamon.
2. The Savory Snack – Almonds, pumpkin seeds, sunflower seeds, garlic powder, onion powder, cayenne pepper.
3. The Raw Energy Booster – Walnuts, pumpkin seeds, sunflower seeds, cinnamon, nutmeg, sea salt.
4. Coffee Talk – Hazelnuts, almonds, chocolate-covered coffee beans, dark chocolate chips.
5. Peanut Butter Pleaser – peanut butter chips, peanuts, almonds, dark chocolate chips.
6. Cajun Concoction – Almonds, pecans, walnuts, sunflower seeds, pumpkin seeds, sea salt, garlic powder, chili powder, ground cumin, cayenne pepper.
7. Crunch 'n' Munch – whole grain Rice Chex, roasted unsalted pistachios, Go Lean Crunch cereal.
8. No Gluten, No Guilt – Roasted marcona almonds, pistachios, sunflower seeds, pumpkin seeds, dried tart cherries.
**Thanks to Adventures of a Gluten-Free Mom, Greatist and Cheat Sheet for providing recipes that served as inspirations behind the ones I've listed above.