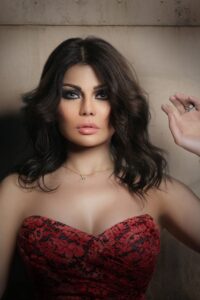 Lebanese pop star Haifa Wehbe has some interesting ties to Jennifer Lopez. For starters, she had the pleasure of featuring Lopez's boyfriend Casper Smart as her love interest in her music video for "Breathing You In" (scroll to bottom). Additionally, Wehbe – who is in her early forties – says she's "often compared to" the American Idol judge, with journalists even referring to her as "the Jennifer Lopez of the Middle East."
Skyelyfe caught up with the singing sensation, who dished on everything from the Middle East's pop music scene, to favorite L.A. hotspots when she comes to town. And of course, it was necessary that she shared her "enjoyable" experience teaming up with Smart.
Get to know Wehbe below:
skyelyfe: What is the electronic and pop music scene like in the Middle East? And the music scene in general? What is most popular? Which American artists are big out there?
Haifa Wehbe: The music scene in the Middle East is very diverse. From hip-hop, to pop, to electro, to rock, both local and international artists have big fan bases in the Middle East. The electronic and pop scenes are continuing to grow in the Middle East. I am proud of the accomplishments of other Middle Eastern pop artists, including Ahlam and Wael Kfoury. American artists who are big in the Middle East include Snoop Dogg, Akon, Nicki Minaj and Pitbull.
SL: Who are some American artists you personally enjoy listening to? (It doesn't matter if they are popular or not)
HW: I really enjoy listening to Rihanna, and my favorite songs of hers are "Diamonds," "We Found Love" and "Only Girl (In The World)." I also like Britney Spears ("Womanizer," "Gimme More" and "Till The World Ends") and Chris Brown ("Run It," "Look At Me Now" and "Turn Up The Music.")
SL: How did you end up working with Casper and what was that experience like?
HW: I was actually introduced to Casper through my record label, World Music. The label's co-CEOs, Tarik Freitekh and Mostafa Sorour were already friends with Casper and they thought it would be a good idea to have him in the music video. When we were introduced we immediately found common ground which made the process of working together on the music video for "Breathing You In" so enjoyable.
SL: What are your thoughts on Los Angeles and what are some of your favorite places to eat/drink/shop in this city?
HW: I love, love, love Los Angeles – what an amazing city. When I visit Los Angeles I stay at my favorite hotel, the Beverly Wilshire Hotel. I have been staying at that hotel for so many years and it is centrally located to my two favorite shopping areas: Rodeo Drive and Melrose. When I am in town for longer stays I actually travel to Newport Beach to visit with friends and, of course, shop at Fashion Island. My favorite restaurants in Los Angeles are Mastros and Nobu in Malibu.
SL: Where in the Middle East do you live?
HW: I live in Beruit, Lebanon. It is an exciting cosmopolitan city often referred to as "the Paris of the East." It is a "high energy" coastal city with amazing restaurants, art galleries, museums and shops – it is actually a very popular tourist destination.
SL: How did you first get into performing?
HW: When I was very young, I knew that when I got older that I wanted to be an entertainer – I had a real passion for singing and acting. I first got started by modeling, which gave me great exposure. From modeling I was able to springboard into singing with the initial release of three singles (I have since released eight albums total). I then branched out into acting having been in four very successful feature length motion pictures including Halawet al-Rooh.
SL: What is the story behind "Breathing You In" and how did the song come to be?
HW: I knew that I wanted to release an English-language song that had meaning – that reflected something deeper about how I live my life. The song is an anthem for how to manage day-to-day challenges. By breathing in and breathing out, you can instantly find peace and create a permanent sense of calm. The lyrics reflect my personal philosophy about dealing with difficult times – breathing, for me, is about finding my center, my balance.
[divider_flat]