Spring cleaning, who? For me, fall is the true embodiment of change and fresh starts—wardrobe included. But if I see one more ridiculous pumpkin pun plastered on a hoodie, I may never leave the house again. Anyone who knows me is well-aware fall is my favorite season, but I absolutely cannot with the gimmicky fashion. Thankfully, fall trends in LA extend much out of silly marketing ploys.
I love dressing for fall and always have. I don't know if it's due to the pandemic or what, but now I cringe at the thought of wearing short dresses. They don't look good on me anymore, and I never feel comfortable in them. That used to not be the case, but yeah, times have changed. Give me a pair of leggings and an oversized sweater or hoodie and I'm set for life. The moment we get to retire our shorts and minis to the back of our closets has been my favorite day. Bring on the bundled-up wear!
I've already started easing into my fall clothing and accessories, and I have a pretty strong sense of what will be my standout items this season. If you're interested in my personal picks, keep scrolling!
PUDUS Faux Cashmere Valentini Cardigan, Grey: $125
Dusters (or open, knee-length cardigans) never go out of style—and when you find one that's equal parts functional, fashionable and insanely soft, it's a no-brainer. PUDUS makes a long loungewear piece with deep pockets, sleeves that slouch, not sag, and a material that mimics cashmere. Keeping up with fall trends in LA each year can't be done without a piece like this in your wardrobe—and I've been lucky enough to swoop up mine. Heck, even Oprah stands by this brand!
Lonely Ghost Text Me Tee: $35
I said I couldn't deal with pumpkin overkill. Ghosts, however, are a different story. How can you not rock a casual streetwear brand that sports a little ghost as its logo? The brand is known for its quippy back-of-tee one-liners and their colorful, comfy loungewear and beanies. I've been wearing the peach, oversized Text Me When You Get Home tee on the reg. Paired with bike shorts, it's the easiest on-the-go fall fit!
Made by Mary Braided Stacking Ring: $24
'Tis the season for all gold everything, and Made by Mary is right on track! The celeb-loved jewelry brand—which recently served as gifts for Jennifer Lopez' daughter Emme and Ben Affleck's daughters Violet and Serafina—creates a slew of delicate and dainty pieces, and right now I'm wearing the gold Braided Stacking Ring. The mass appeal of Made by Mary's jewels is they're of highest quality but at a remarkably low price. Aka, best gift ideas year-'round!
Free People Easy Street Tunic, Acid Lime: $128
When I think of cozy fall trends in LA, this is pretty much the exact piece that comes to mind! Oversized, soft and with a distinct pop of color, I immediately pressed "Add to Cart" upon view. Pro tip: Definitely order the small. They're not kidding when they say oversized. You'll likely swim in this, which is the point. But if that's not your vibe, this top probably isn't for you. I plan to wear this over my new hot pink leggings (see below) for a look that's sure to turn a few heads.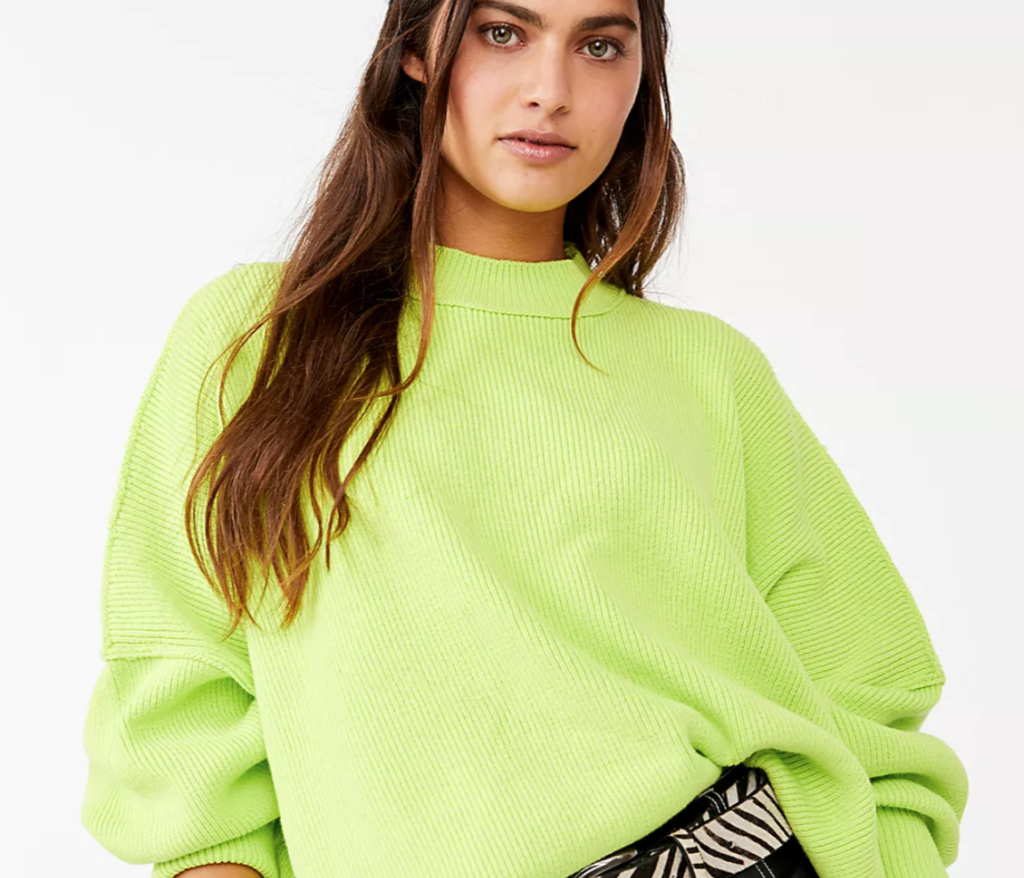 dgi. los angeles Light Pink Logo Hoodie: $58
dgi. los angeles is a merch line launched by yours truly in Dec. 2020. The brand, with a cheeky acronym that stands for "doesn't get it," is presently on pause as far as promotion goes, but the tees and hoodies that were previously on sale are still very much available on the website. I promise I'm not being biased—the hoodies are next-level comfy, and the pink one totally pops! I will be living in these all season long. I'm very excited about the brand's relaunch, which is expected at the end of this year.
Ten Wilde Mini Curb Chain: $32
Layering isn't going anywhere, and Ten Wilde creates the perfect on-trend chain pieces for a fraction of the average retailer's price. I've been wearing the Mini Curb Chain as a choker and layering it with two gold, dangly necklaces to follow. And hey, Addison Rae wore the brand's Large Orb Hoops in one of her latest ITEM Beauty campaigns, so clearly I'm onto something here!
Colorful Natalie Babe Alert Necklace: $30
I'm all for a Gen Z jewelry moment, and colorful beaded smileys are totally up my alley. While TikTok is a flurry with independent retailers left and right, Colorful Natalie's Babe Alert necklace is hands-down the most stylish piece I've seen in this realm. Made with a combo of pearls and high-quality gold links, this piece looks next-level chic without losing the purpose of the fun.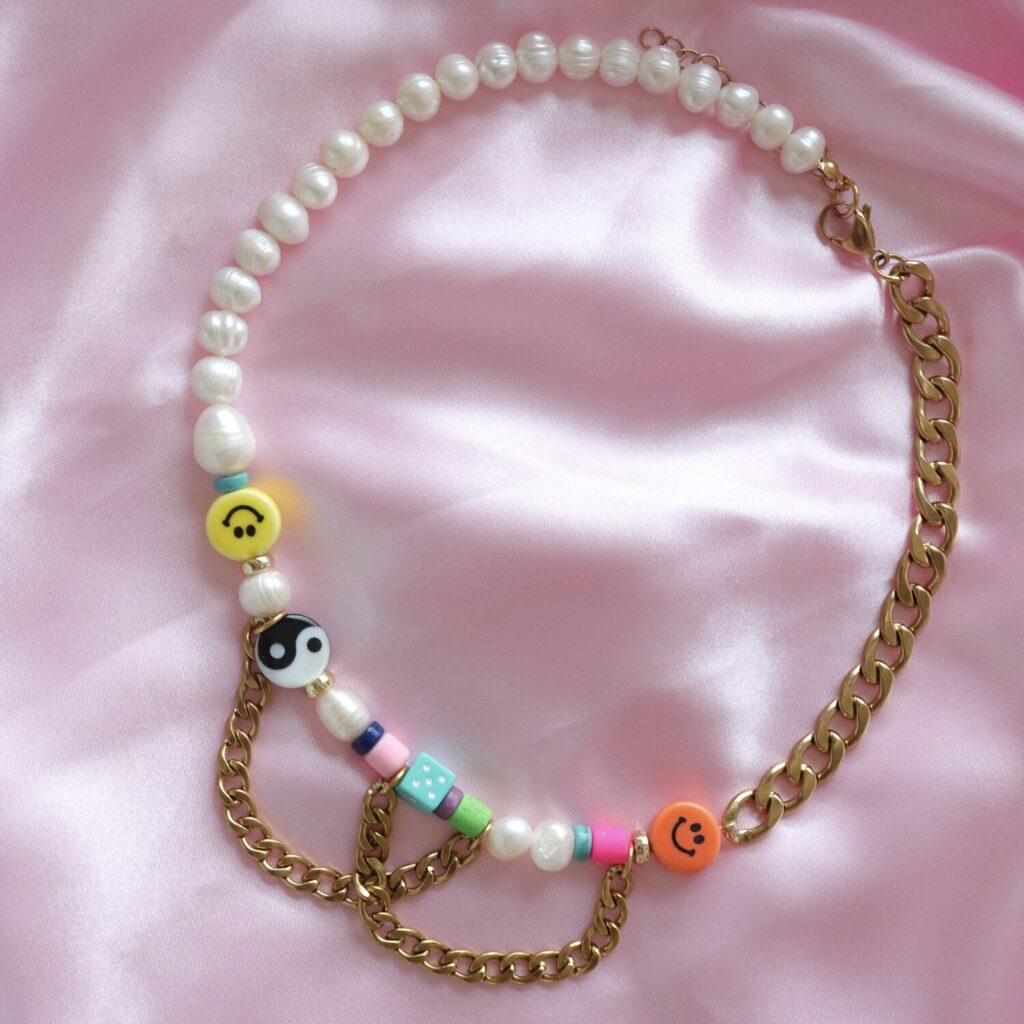 Honey Minx Women's Radiant Signet Bracelet, Gold Sapphire: $74.99
Honey Minx is Nicole Richie's line of boho chic loungewear and accessories, so naturally, it's stylish. And much like her famed House of Harlow 1960 brand, the price point on these pieces isn't astronomically high. And straight-up, the quality is legit, too. I stack two of these Gold Sapphire bracelets, and pair them with two other blue bracelets I own. The combo creates easy arm candy that totally pops. Honey Minx is featured on RivalWorld, a site that showcases a handful of celebrity lifestyle brands.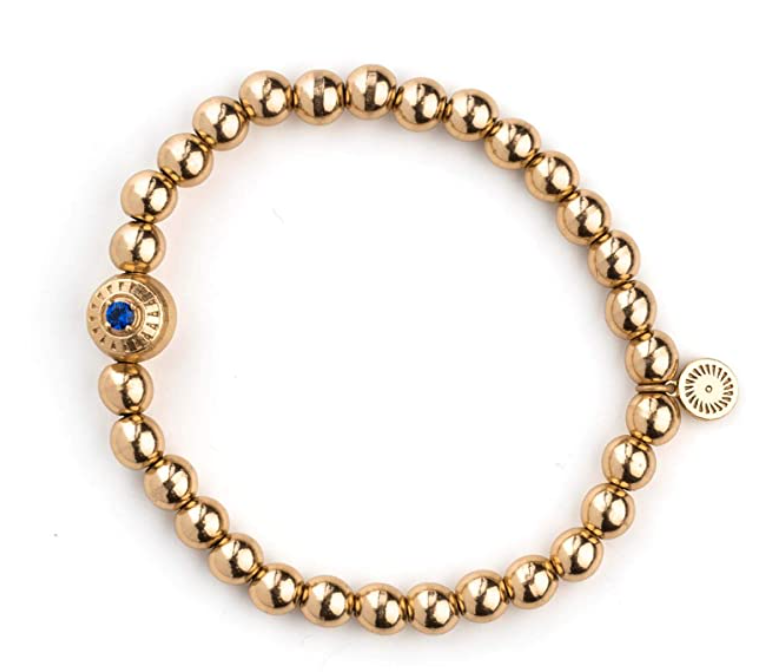 Leovici Women's Classic Logo Hoodie: $85
When it comes to fall trends in LA, we all need our collection of hoodies. And not just any hoodies—the thick, robustly made fabric that keeps us warm while also extremely stylish. This off-white drawstring selection from newly launched luxury menswear brand Leovici checks all the boxes.
Child of Wild Feathers of Peace Necklace: $104
Perfect for layering or wearing solo, this beauty, made of 14K and 18K gold, has been Child of Wild's best-selling necklace for the last three years. And it makes sense—the pendant is intricately designed, well-made and represents a future world where peace is granted for all. I was lucky enough to receive this keeper in a gift bag from Maya Apothecary, and I haven't taken it off since!
Alo Yoga 7/8 High-Waist Airlift Legging, Hot Pink ($118) + Airlift Intrigue Bra, Hot Pink ($58)
Thick, over-the-belly-button waistbands are my jam, so that was an initial draw to these leggings. That, combined with the second-skin Airlift fabric, made me feel supported in my problem area (my stomach – surprise, surprise) as soon as I tried them on. And while I do naturally feel more comfortable in the leg and buttocks area, the four-way-stretch fit really enhances those assets. There's also a front-smoothing panel for commando comfort, which was also a huge enticement. And, of course, the vibrant hot pink hue basically had a sign that read "BUY ME." Paired with the brand's Airlift Intrigue Bra of the same color, I found myself in a bold set that sucks you in, in all the right places, while not shying away from a little cleavage moment.
Brunette the Label 'Best Friend' Hoodie, Mint Gelato: $105
This hoodie's faint green hue is everything. Not only is the item comfy and easy to utilize on-the-go, but it's a unique shade that I really haven't seen much. The fit is relaxed and slightly slouchy, sitting at the high hip. The large middle pocket is perfect for when I'm making a dash to a workout and don't want to schlep around a huge backpack. Keys and wallet fit perfectly!
Now that you're set with seasonal style picks, HERE are some new beauty buys to get your hands on, too!