(via Unsplash)
To this day, one of my most-viewed blog posts is an article I wrote in 2018 about using CBD to help me fall asleep. It was that year that CBD (Cannabidiol) was literally everywhere. From beauty products and bath bombs, to smoothies and post-workout creams, CBD was without question the universally buzziest ingredient of that year. But you know what wasn't discussed much? How to use CBD correctly.
The THC-free chemical compound found in the cannabis sativa plant has been known to ease anxiety, treat epileptic seizures, relieve physical pain and help with a number of additional ailments. But I've noticed that not all CBD is created equal—and with all the CBD hype that's existed over the last few years, how to use CBD correctly isn't a topic I've seen pop up significantly.
That's why I reached out to two CBD formulation experts, who shared detailed insight into factors that contribute to what's effective, and how to use cbd correctly. Keep reading for all the questions to ask before purchasing a CBD product, according to Ceilidh MacLeod, cofounder of OEM; and Dr. Najifa Choudhury, founder of Dr. Peace Lily.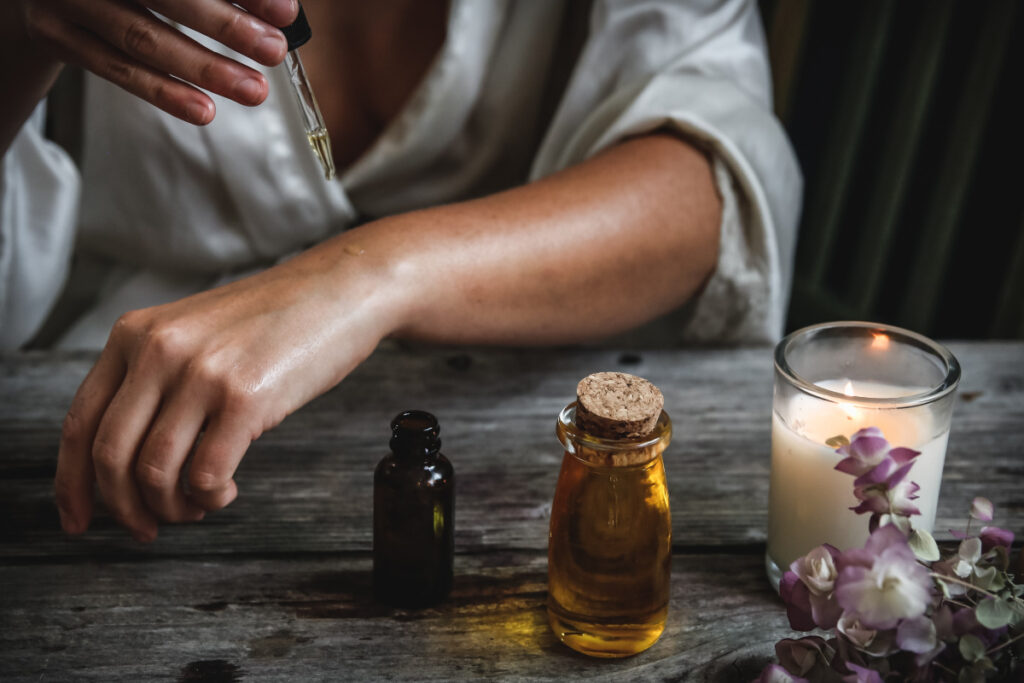 Why Are You Taking CBD?
As Dr. Choudhury points out, "Certain ailments like focus and stress require a smaller dosage, whereas getting a great night's sleep requires a higher dosage."
MacLeod agrees, adding, "The dose and form of CBD is going to depend on what ailment you're looking to fix. For example, if you have skin irritation, you'll want to look for a topical, but if you're looking for mental relief, you'll likely want a gummy or tincture [under the tongue drops]." 
How Fast Do You Want Your CBD Product to Start Working?
When figuring out how to use CBD correctly for you, note that different forms and methods have a different onset of action.
"Inhaled products that are vaped or smoked will start working within minutes, but this is the least recommended option due to the adverse effects of vaping and smoking," Dr. Choudhury explains. "The second fastest onset of action occurs with sublingual tinctures, which is why I typically recommend my patients to start off with a tincture that has an onset of action of 10-30 minutes. Lastly, ingested forms such as softgel or gummies will take the longest to work at 30-60 minutes." 
How Long Do You Want the CBD Effects to Last?
It's important to note that inhaled and sublingual CBD will only last for about three hours, whereas ingested forms will last 6-8 hours.
"For example, if you have a hard time falling asleep, then sublingual would be the best option," Dr. Choudhury says. "But if you have a hard time staying asleep, then you should consider taking a softgel."
Is Your Product an Isolate, Broad-Spectrum or Full-Spectrum?
Broad and full-spectrums CBD products are proven to be more effective, but if you're averse to the psychoactive effects of Cannabinoids, you'll want to steer clear.
"Full spectrum works the best due to the entourage effects," Dr. Choudhury says, "But some people don't want any THC in their products, especially if they're sensitive to it or drug-tested at work."
Are There Synergistic Ingredients in Your CBD Products That Could Help With the Desired Effect?
CBD by itself can be effective, but with certain ailments such as sleep or pain, there are other plant medicine options to incorporate in the formulation for the highest efficacy.
For example, Dr. Choudhury points out that her Dr. Peace Lily Sleep Gummy not only has CBD but also has another minor cannabinoid called CBN and three botanicals that are commonly found in sleep teas to help give you the best night's rest. The Dr. Peace Lily Pain Relief Rub also has a high concentration of CBD at 2000mg, but additionally contains emu oil, arnica flower extract, and menthol to penetrate deeper into your skin and give you powerful anti-inflammatory effects.
What Is the Brand's COA?
A brand's COA is their Certificate of Analysis that will show a certified lab report on all of the cannabinoids included in the product. This will be available on the brand's website.
"It's a legal requirement to list COAs if a brand is selling CBD, so it would be a red flag if you can't find them," MacLeod explains. 
What Dose Is Right for You?
How to use CBD correctly is also subjective, based on a number of variables.
"Your ultimate" perfect dose will depend on the ailment, your weight, your chemical balance, and the form in which you decide to take it," MacLeod says. "It's recommended that you start low (maybe 20-40mg / day) and gradually increase by 5mg / week until you find relief."
When in doubt, speak to a professional where you purchase your product.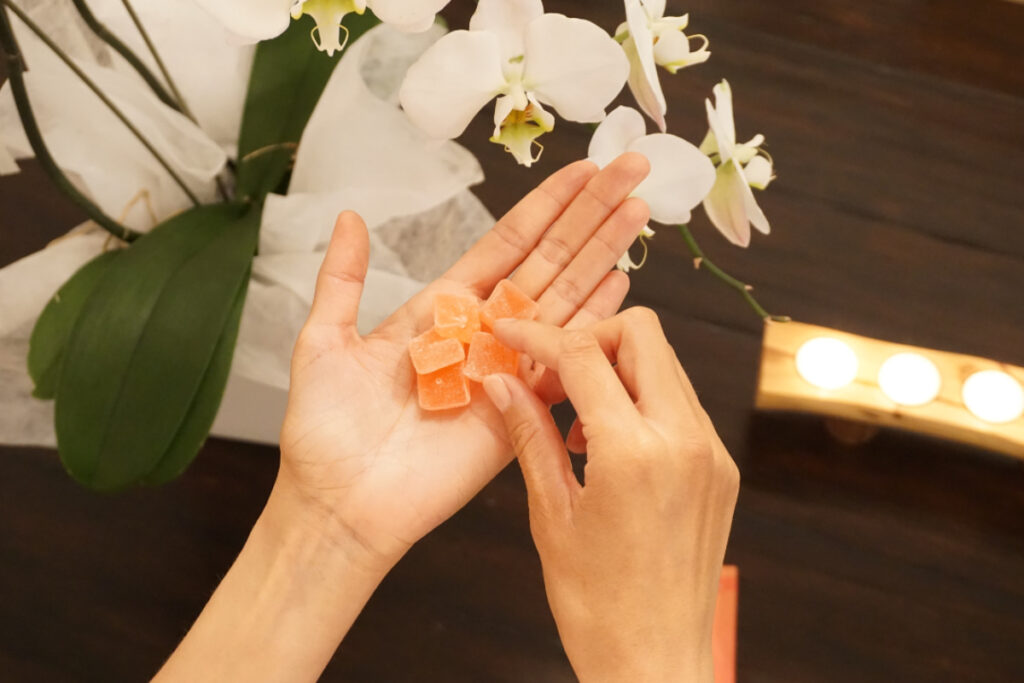 Which Form Suits You Best?
As you probably know, CBD is formulated in many different ways. Each serves a unique purpose—and MacLeod points out the different types below, along with their benefits.
Topicals: These are great for targeting specific areas (rather than medicating your whole body via digestibles), but they're hard to monitor dosage. While you'll know how much CBD is in the whole jar, it's much harder to know how much is in a dollop. Another benefit is the additional ingredients that come with the CBD (particularly emollients, humectants and occlusives) can all provide much needed moisture and barrier protection. 
Tinctures: These are a fast-acting and efficient method of taking CBD. They're great if you're looking for more immediate relief; however, this also means they leave your system faster and you might need to take multiple doses a day. These are recommended if you need more intense pain relief, mental relief or help with sleep. You can also take more precise measurements. 
Vapes: These have even better bioavailability and are faster-acting than tinctures. This could be the most effective way to get immediate relief, but it's also the fastest form to leave your system. This means you'll need to take more puffs, and there could also could be negative side effects of vaping. Tinctures are the safer alternative. 
Gummies: These take longer to kick in, but can last a whole day. Since they have to be metabolized and go through more of your bodily systems, they can also provide more all-around relief to your body and brain. Dosage can be hard to monitor with gummies depending on where you buy them, and how precise their measurements are, and the size of the gummies. Ask the maker to provide details on the dosage range for each gummy. 
Beverages: Typically, beverages have very low dosage, so they aren't the best at providing effective relief—CBD is more commonly added as a supplemental benefit to other adaptogens and vitamins. Look for a higher dosage in beverages if you want to see any impact. CBD also has to go through more processes to become soluble in a beverage, which means it could lose some of its effectiveness in that process. In comparison, CBD would be much more easily absorbed by the body if delivered through tincture.
Should you be using CBD in your skincare routine? An expert explains what you need to know HERE!