Between the social justice revolution and the pandemic, there's a lot going on in the world right now—and you may find it difficult to embrace me-time.
But it's not just our minds and bodies that need to decompress—our skin does, too! Typically, when something like CBD comes to mind, we're thinking about our mental state. But the powerful ingredient does wonders for our skin as well, which is why we're excited to bring you a handful of new innovations in the CBD beauty space.
Because you deserve it, treat yourself to one (or all) of the five brand new CBD beauty products below. From body creams to oils, these items should help you (and your stressed-out skin) relax to the max.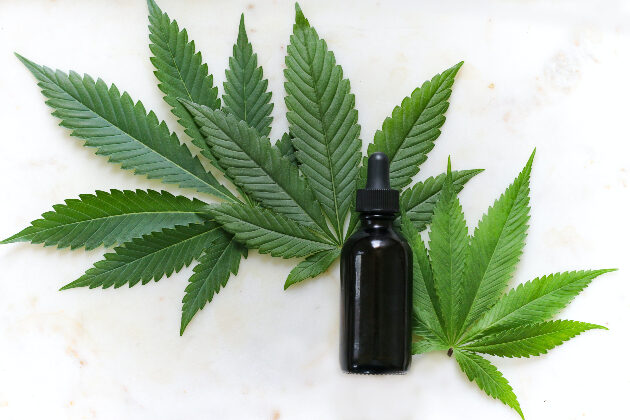 Entrepreneur and digital industry leader Shea Marie is the brains behind The Feelist. Her line of plant-powered skincare is set out to pamper you when you need it most. There are two different creams and oils, along with a salt soak in this line. Every product is of interest, though the Do Not Disturb Extra Strength Body Cream really caught our attention. With 500 milligrams of broad spectrum CBD, this cream should aid in getting rid of aches and pains in your body.
Veritas Beauty is a CBD skincare line created by Veritas Farms, which is already well-known for their impeccable CBD products. Now, they've moved into the beauty industry. Veritas Beauty comes packed with a variety of products, including Rejuvenating Night Cream, Cucumber Eye Cream, Mattifying Blemish Cream and Hyaluronic Day Cream. The great thing is you can purchase them all in a handy-dandy kit. Though if your budget only allows for one, we'd opt for the Cucumber Eye Cream. A good eye cream is harder to come by than you'd think, so having this one in your skincare arsenal will make a world of difference.
Philip B is one of our all-time favorite haircare companies, so we jumped at the chance to snatch up their CBD Scalp + Body Oil when it was released. Your scalp needs more love than you give it. We're all so guilty of trying to undo years of damage to our tresses that we forget about our scalp. Featuring 100 milligrams of CBD and 25 milligrams of CBG, this scalp and body oil moisturizes your skin to reduce redness brought on by environmental stressors. It really is one of the most soothing oils on the market, so your skin will thank you for using it.
MyCHELLE Dermaceutical's released a new line of CBD skincare products that features a serum, lotion, lip balm, and… wait for it… a CBD Rinse-Free Wash. What is a rinse-free wash? Instead of having to splash your face with water, you can put this product on a cotton pad, swipe it all over your complexion, and you're good to go. The CBD in this is aimed at hydrating and softening your skin, which is something we've been having trouble maintaining during quarantine.
WLDKAT is a clean, vegan, sustainable, and cruelty-free brand that also happens to be "femxle founded and fronted." Their packaging is bright and in your face, but in the best way possible. We're particularly fascinated by their butter lip balm. Containing 50 milligrams of CBD, cupuacu and mango butter, these balms should keep your lips hydrated for hours on end.
Wondering if CBD can help you get better sleep? HERE'S what happened when we tried it!