(Photo courtesy of Taylor Jean Stephan)
If there's one L.A. fashion trend that's completely taken off in recent months across all age groups, it's expertly styling your fitness 'fit. And we're not talking the standard "athleisure" looks of days past.
Today's looks go from head to toe—encompassing everything from scrunchies to socks. And not just any scrunchies or socks. LA's styled athletic looks of the moment have every on-trend detail down from specific brands and accessories, to materials, colors and more. It's no longer about throwing on a pair of Lululemon's Wunder Train High-Rise leggings and calling it a day. Athleisure trends in LA are centered around going from pilates, straight to the rest of your day (and maybe even night) plans.
With the emergence of TikTok and a boom in Gen Z influence since pre-pandemic, a lot has changed. To break down the DOs and DON'Ts of properly styling your fitness 'fit, we reached out to certified pilates instructor and L.A. beauty editor/girl-about-town, Taylor Jean Stephan. Consider the below your expert manual!
DO: Grab a set from FPM (Free People Movement). They make colorful, interesting top cuts. They're a hidden gem that make great onesies, too. Alo is overpriced but also great. Beach Riot is another great brand to try, but again, overpriced. That said, they do feel a little more high-end, making their sets easier to wear out after your workout. La Piel is another to try; SET Active; Spiritual Gangster (love their tops); Bandier (soft and fits well).
DO: Look to Amazon for seamless YEOREO sets, LA Active grip socks or BRONAX slides.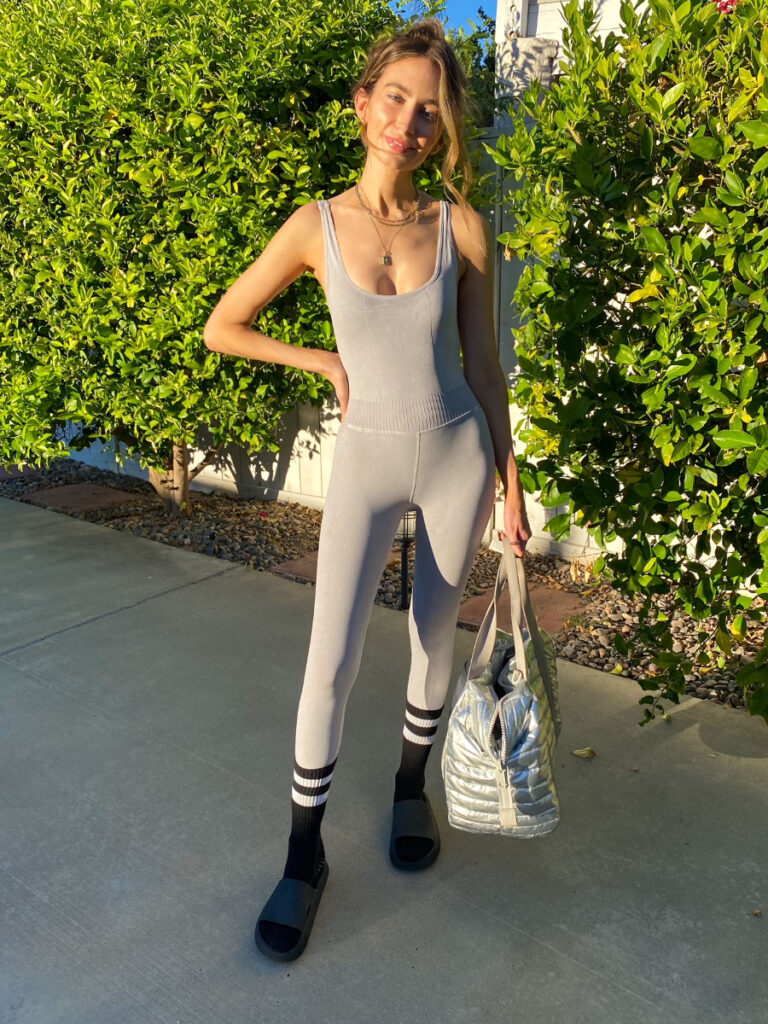 DO: Wear pastel pinks, lavenders, blues and light greens. You also can't go wrong with neutrals: black, tan, nude. Solid colors period are always a plus.
DO: Wear ribbed or heathered material on the thighs. They help with blurring a bit.
DO: Wear seamless pieces with nylon or spandex material. They're very soft.
DON'T: Wear polyester (unless there's a very minimal amount). It looks cheap.
DO: Wear high-waisted pants with a slightly lengthier sports bra. It should feel more like a shirt and less like a sports bra. It should be crop top-feely.
DON'T: Wear athletic styles; Athleisure trends in LA are not about running leggings with zippers, mesh or lines. Any additional accents or bulk is a no. You want to feel like you're in a second skin.
DON'T: Wear logos; Brands that are logo-heavy are a no. Tiny little logos are in. Spiritual Gangster and FPM are examples of brands with cute and subtle logos. The logo has to be aesthetically pleasing and not in your face. If you're itching for a logo moment, make it happen with the shoe (ie. Nike).
DON'T: Wear loud, bold patterns—they're out. Geometric shapes and plaid or color-contrasting animal prints are no longer in. The look of the moment is muted and calming. 
DON'T: Wear serious activewear. Your look should be less functional and more loungey. People are sticking in their clothes all day.
DO: Snag some puffy slides from Amazon. Even fuzzy slides are in for walking over to your workout. Dad sneakers are on everyone's feet, as are crew length socks. The clunkier, the more '80s, the better; no mesh; no sleek and slender. Take a bold risk with a statement shoe when you're wearing a monochromatic outfit. Add to your personality with shoes. Make them pop!
DO: Follow the same accessory trends you would at a regular outing; lots of layered gold. Bring everyday jewelry into your workout ensemble; this includes earrings. However, take off clunky rings and bracelets. Personalize your look so you can work out and take it to the street.
DON'T: Wear faux leather; anything shiny; anything embossed
DON'T: Overdo it with makeup. Less is more. You want to enhance your glow. Use what will work with you as you sweat. Try a CC cream that serves as a skincare-foundation hybrid. Filled-in brows are a must. You'll also want a lip oil or something hydrating that will stay on lips during the workout.
DO: Mix and match brands as long as one or both of the pieces is ambiguous/unbranded.
DO: Always come and go with a stylized sweatshirt.
DO: Embrace the biker short look, especially when it comes in a set. You can always throw a tee over it or simply wear with a sports bra. To and from the workout, be sure to tie a sweatshirt around the waist for an elevated aesthetic.
DON'T: Wear two very apparently different brands. You goal is for your look to appear seamless, whether that's through the branding or color story.
DON'T: Wear studio merch in general. And even more importantly, don't wear another studio's merch to a studio. It feels kinda tacky.
DO: Wear an oversized graphic tee if you're not into the tight-fitting look. Old concert tees; nostalgia graphics; no slogan tees. You can also opt for a flowy, slim-fitting tank. Make sure whatever top you're wearing is color-coordinated to the shade of your leggings. Always keep it cohesive. The only exception is when one or both of the pieces is ambiguous/unbranded. In that case, you can mix and match.
DON'T: Wear capri-length leggings. Capris that cut at the calf are out. They're also unflattering. Leggings have to be long, ankle length or biker shorts. No in-between.
DO: Snag a YETI water bottle. I have the white one, and it's super chic. Yes, water bottles still complete the 'fit.
Now that you know how to rock athleisure trends in LA, HERE are the DOs and DON'Ts of smelling on-point at your workout!