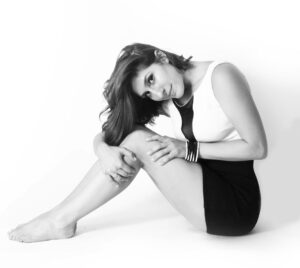 Pittsburgh-based, Michigan-bred musician Rachel B may be a name you are currently unfamiliar with, but with her self-coined "soul empowerment pop" genre, it's only a matter of time before the multitalented singer stands out for her forward-thinking sounds.
The vegan-friendly 25-year-old, who formerly lived in L.A.'s Los Feliz neighborhood, recently chatted with skyelyfe and shared everything from excellent industry advice she received (thank you, John Mayer!), to writing about heartbreak and aspiring to shine in her career like Sia.
Keep reading to learn more about Rachel, and scroll to the very bottom to hear "So Good," and watch the video for "I'm the Boss," the first single from her debut album of the same title, which will be available March 1.
1) Tell me a bit about your background and how you got into music
At an early age, I found myself trying to make sense of life and for some unknown reason, I turned to writing songs. I had a lot of anxiety and worries as a kid, and music was and still is my release. I would go to the library to find music and was drawn to voices like Billie Holiday, Minnie Riperton and Ella Fitzgerald. My background is in jazz and Motown, which has now evolved into my own style of what I like to call Soul Empowerment Pop.
2) Have you received any firsthand guidance about the industry from anyone the general public would be familiar with?
I met John Mayer and he had some inspirational messages that have stuck with me. He said that for a while he thought one person would come along and make him successful, but that that was a fallacy. It's not some other person who is going to make or break your career, it's you. That has definitely been the case for my own journey.
3) How would you describe your music and who would you say has influenced your music style?
I often get described as a sassier Norah Jones meets a softer Amy Winehouse. Some contemporary artists I love are: Adele, Robyn, Alicia Keys, Jessie Ware and Sia. I really adore female voices with nuances, color, and strong messages. [In terms of just listening], I love Mark Ronson, Bruno Mars, Michael Jackson and James Brown. I could listen to Motown all day. I have to admit I'm loving Justin Bieber's new album!
4) Tell me about the story behind "My Tomorrows"
I wrote "My Tomorrows" after my first real heartbreak. I was processing the breakup and searching for closure that I couldn't seem to find. I remember sitting in my apartment in Boston and thinking, "I guess the answer's that there's no answer". Once I accepted that he didn't belong in my life, the song just sort of wrote itself.

5) What's been the biggest career challenge for you thus far and what's been the biggest accomplishment?
I would have to say that my greatest challenge has been managing all of the different aspects of a music career with limited resources and hardly any guidance. I've had to learn a lot of what I know from trial and error. I don't come from a musical family and in fact, many people tried to discourage me from pursuing a career in music because they had heard how difficult the industry was. Fortunately, many of those people now tell me they are inspired by what I do, and that's exactly my goal! I'm really proud of what I've been creating and all that I've overcome in the process. I feel like my biggest accomplishment has been making my living as a full time artist. I'll never forget the day I quit my day job to become my own boss, which is why the album is called "I'm The Boss". I was terrified, but sometimes you've just gotta take that leap and fight for what you want.
6) If you could emulate the career of anyone who has "made it," who would it be?
I think Sia is one of a kind. She has managed to create the career that she wants, performing her own music and writing for other artists. She can sell out some of the biggest venues in the world and still walk around the grocery store without being noticed. She's an amazing writer and singer – one note and you know it's her.
7) Describe your off-stage persona
Oh, I make no sense. I'm really intense, but I'm super chill. I'm a workaholic, but I can be quite lazy at times. I love being around people, but treasure my solitude. On a good night I'm in bed by midnight and up early to work out, so I can have dessert that day [laughs].
8) Why did you leave L.A.?
I think a lot of aspiring artists move to big cities like N.Y.C. or L.A. to be "discovered," and I realized that I wasn't interested in waiting around to be discovered, I wanted to pave my own way. I had a lot of friends who were signed to management companies and in "development," but the progress seemed too slow and the process felt a little contrived. I was eager to get out there and connect with people, tour the country and be on stage inspiring and others and finding inspiration for myself. I decided to take things into my own hands as an independent artist and leave Los Angeles to continue growing in Pittsburgh. It's been an amazing decision. I did meet some incredibly inspiring people in Los Angeles that I miss and keep in touch with. I'm sure I'll be back for visits and performances soon!
9) Anything else you'd like your fans to know?
That I'm grateful. I'm able to do what I love because of the incredible support I receive from friends, family and fans. I hope that sharing positive and genuine messages through my music will help inspire others to create the lives they want for themselves. I want my music to help people fight through the things that might be holding them back from achieving their goals. That's what music has done for me and that's what it means to be a "Boss." Take your life into your own hands.
[divider_flat]