I'm always fascinated when a popular makeup brand forays into skincare. It seems like the most natural next move, but it's still interesting to see which products and ingredients they choose to hone in on, and how they plan to hold their own in a heavily concentrated space.
When I received an invite to Nudestix's virtual soft launch of their Nudeskin skincare line, (which officially released Oct. 10), my interest was immediately piqued. First, there's the colorful packaging and clean, vegan ingredients. I also like that the four-part (five-product) system is easy and straightforward, and each size adheres to travel guidelines.
My mailer arrived in a sleek Nudestix branded box with all of the packaging marked "biodegradable." It came with full sizes of each product, and a branded face towel. There were also easy-to-follow descriptions placed in the order of application. But how did I feel once I put the line to use? Keep reading for my honest Nudeskin review.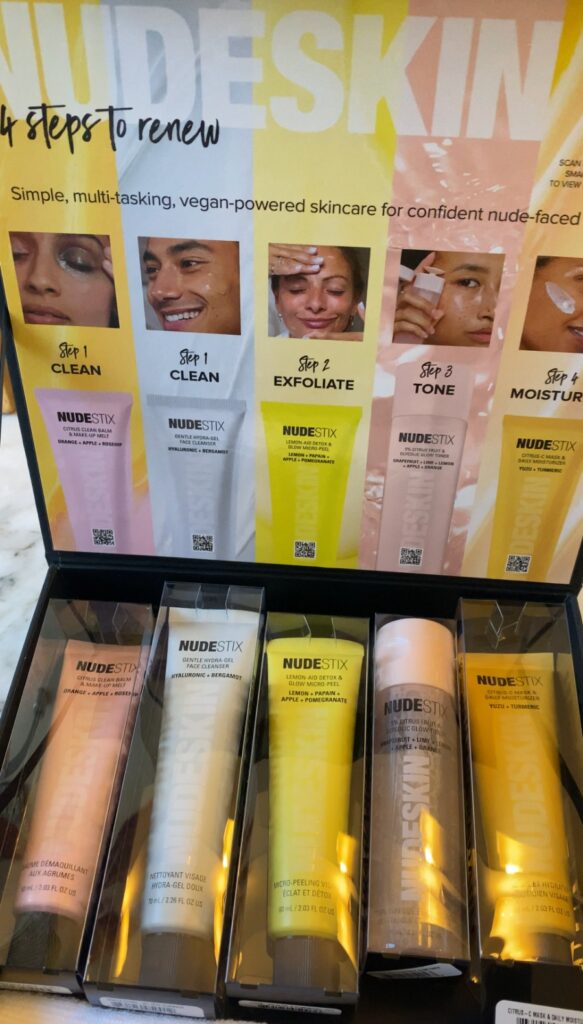 Citrus Clean Balm & Make-Up Melt: $34
This citrus-infused cleansing balm includes rose hip fruit oil, essential oils and pore-cleansing oils. This is step one in the two-part cleansing process. This first step is optional, but I made it a point to test the line on a day I was wearing a ton of makeup. So yes, this makeup-melting step was indeed necessary.
I've got to say, these are my favorite types of makeup removers. I love feeling thick mascara disintegrate into my fingers. And even though it's not the prettiest, makeup melts typically get the job done—and this is no exception.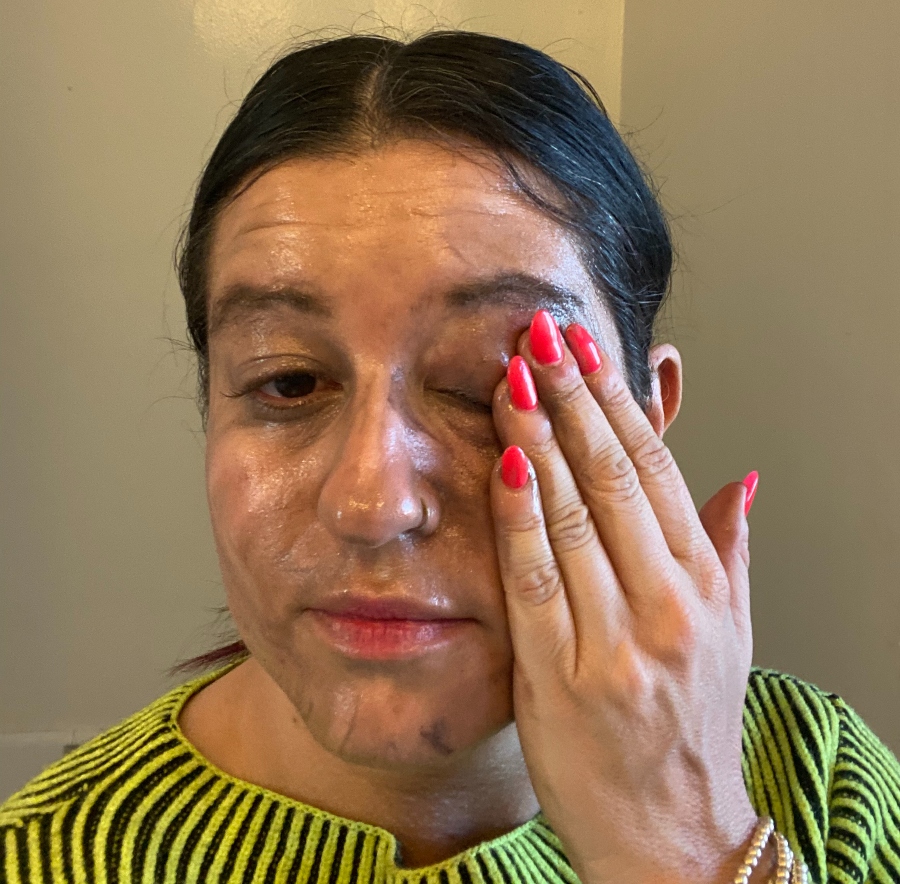 Gentle Hydra-Gel Face Cleanser: $18
As the second step (but first on a minimal makeup day), this non-foaming clean water gel was made to remove natural makeup. It also clarifies skin tone and gently cleanses skin impurities without harsh surfactants and chemicals. It's developed with bergamot fruit oil, natural AHAs and actives. It's made to be suitable for the most sensitive skin, reducing inflammation, irritation, blemishes and dryness.
I'm glad this option exists in the line because after product one, I still felt like I needed an additional cleanse to fully remove any lingering makeup. Once this application was complete, my face looked fresh.
Lemon-Aid Detox & Glow Micro-Peel: $34
The third step is a skin clarifying peel that detoxes pores of excess oil, dirt and pollution. Papain enzymes allow for the peeling process, and apple and pomegranate extracts enable deep pore cleansing action. And, of course, Vitamin C renews and brightens the skin.
This is hands-down the best part of my Nudeskin review. This isn't the most Insta-worthy aspect, but it's certainly the most satisfying. Who doesn't love balls of dead skin coming to the face's surface? And, most importantly, my skin looked even more revived after the process.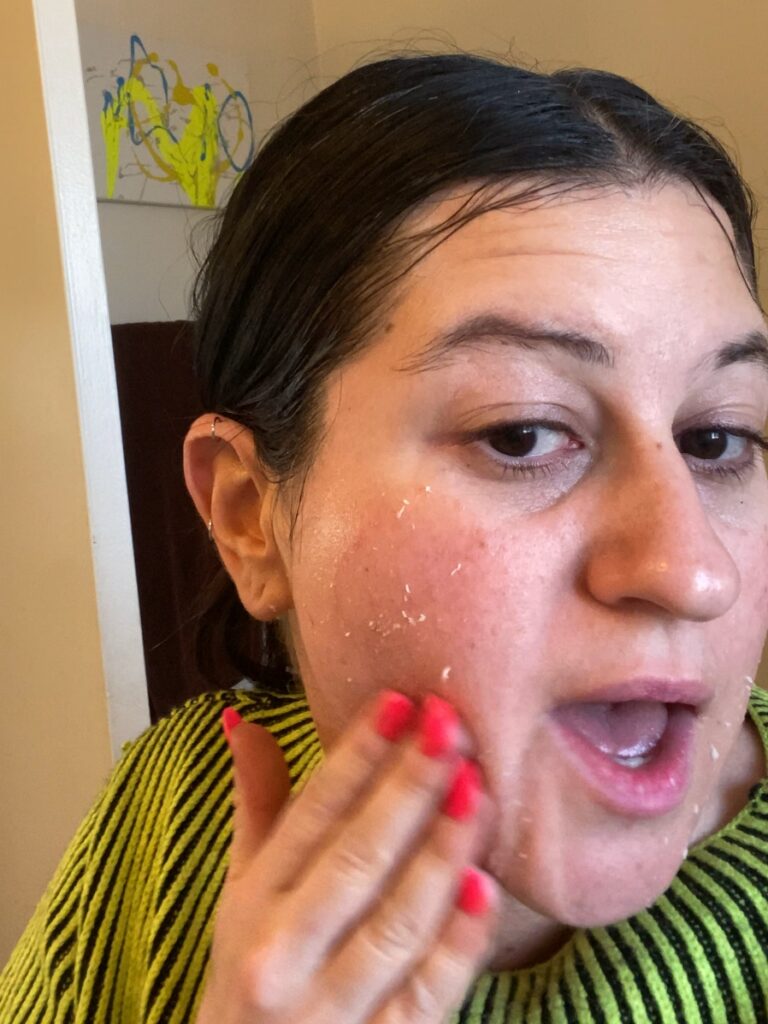 5% Citrus Fruit & Glycolic Glow Toner: $28
Next up is the toner, made with a 3% glycolic acid and 2% fruit acid complex. This spa-strength resurfacing treatment is made to accelerate the skin's cell renewal process by smoothing and brightening, minimizing the appearance of lines and pores, and leaving a plump-and-glowing complexion.
This comes with a push pump that makes the product easy to distribute, and the product's 3-in-1 formula saves time and effort of having to apply a serum with similar benefits.
Citrus-C Mask & Daily Moisturizer: $38
The final step in the process is the active-rich hydrator. This can be used daily under makeup or overnight as a mask. Fermented yuzu oil and turmeric extract make up the cream. It's formulated to deeply moisturize skin, gently boost collagen and help reduce environmental inflammation.
I feel a mild sting when I use this product, but that's a sign the actives are hard at work! My skin feels instantly bouncier and hydrated after its application. There's a very faint, expected citrus scent, but it goes away a few moments after the product is rubbed in. After completing the five-product process, my skin looks cleansed, hydrated and healthy as you can see in the image below.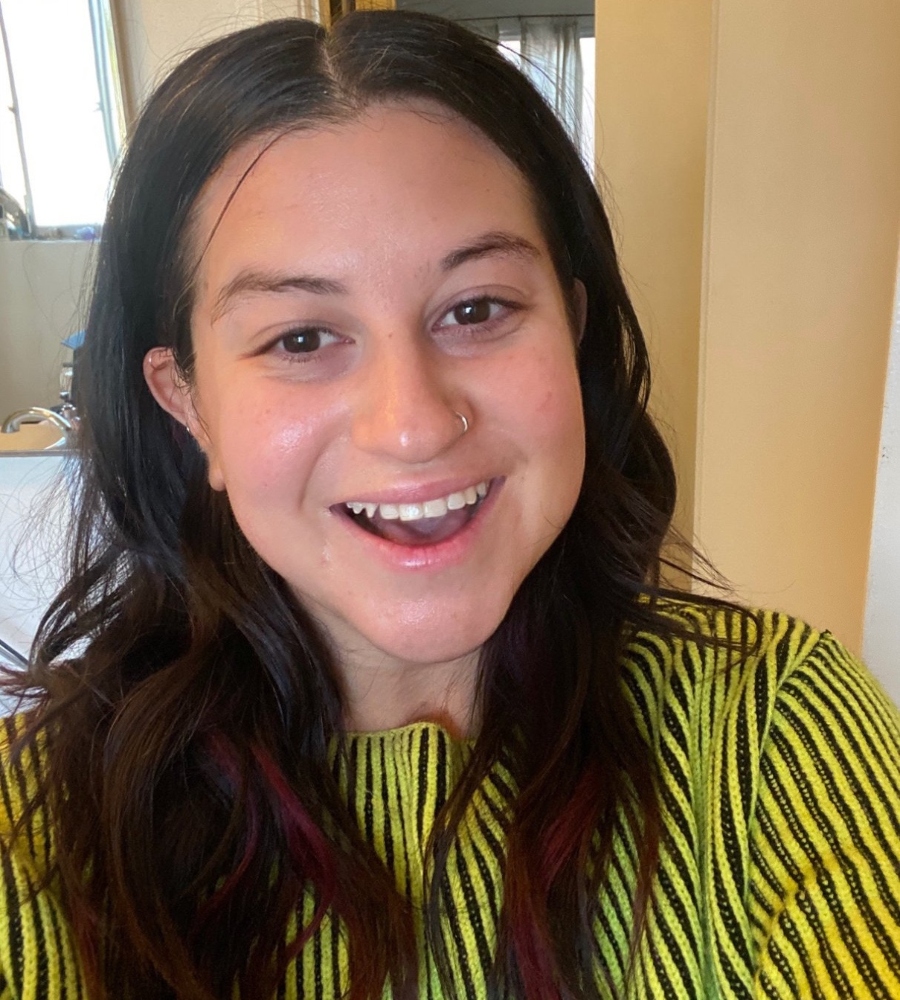 Now that this Nudeskin review has you all caught up on your bathroom basics, HERE are the newest CBD skincare products to have on your radar!