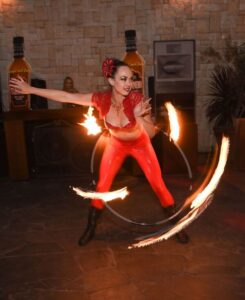 It was National Hot Sauce Day, and not a taste bud was left untouched among the guests at Tabanero and Fireball's spicy Hollywood soirée at Le Jardin to honor the occasion!
Fire dancers twirled their flamed hoops, guests took Fireball shots out of ice sculptures in between noshing on some of the hottest peppers and sauces in existence (you had to sign a waiver to try them – that's how spicy they were!), and Burger Lounge served up their finest jalapeño-accompanied beef bites.
Following the bash, VIP guests walked out with the ultimate gift bag full of Tabanero sauces, Fireball shots and glasses, Poke Bar and Burger Lounge gift cards and flaming popcorn and chocolate bars.
There will be no lack of spice in my 2016 – that's for sure!