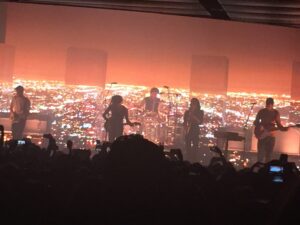 The lights shined bright as alt-rock group The 1975 took the stage last week at L.A. Live's Club Nokia in downtown to the sounds of thunderous cheering and applause.
Opening the show with their latest hit single "Love Me," the band's new stage aesthetic burst into life. What was once black, white and boxy had transformed into shades of pinks and purples.
The band broke into some of their greatest hits including "Heart Out," "So Far It's Alright," "The City," and later fan favorites "Chocolate" and "Sex."
Not only did they crush the stage with those, but they also gave us a preview of some new material, including infectious pop anthems "She's American" and "Somebody Else."
The band's next album drops in February titled (brace yourself) I Like It When You Sleep, For You Are So Beautiful Yet So Unaware of It. If you happened to miss out on the group's new aesthetic, Matthew Healy's dance moves and their incredible live sound, you'll have another opportunity this spring when the band tours once again for their new album! Gone are the dark days of black and white, they're now in screaming Technicolor.