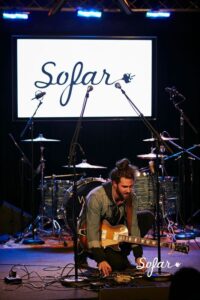 It's hard to impress jaded music lovers nowadays. Concerts, venues and events are constantly pushing the envelope and attendees get used to the party formula quickly. But that's why we continue to love Sofar Sounds.
For those unfamiliar, Sofar curates intimate, donation-only gigs in secret locations around the world, and we've been fortunate enough to have attended a handful of the shows. They spotlight emerging artists and place them in front of a receptive audience of extraordinary people. No headliners needed. Music is delivered in its purest form, and guests must be on a waiting list to attend. These deeply personal concert experiences are then turned around and shared with other music lovers around the globe via streaming.
In order to execute these magical soirees, Sofar (short for "Songs from a Room") has amassed connections with concert goers, hosts and artists since its 2009 debut in London.
One of the most recent Los Angeles sessions brought out James the Human, Tiron & Ayomari and The Bots to the WorldArts Stage in Culver City. The lineup was hand-selected based on talent, uniqueness and diversity. True to their formula, Sofar didn't release the secret location until the day before the session, or musical lineup until the night of the event. There was no "opener" or "headliner," the three performers were treated with equal importance and the audience took note, keeping engaged throughout the three musical showcases.
James the Human is an L.A.-based singer/songwriter who was the night's one-man show. His easy and upbeat sounds serenaded the crowd with lyrics about working in the City of Angels. Tiron & Ayomari performed carefully crafted hip-hop beats that included recognizable nods to Americana. The duo showcased material from their newly released album The Great New Wonderful. L.A.-based brothers and bandmates, The Bots paid homage to American Blues and ballad traditions. Their songs could be easily recognizable from Coachellas past as they were indie favorites at the 2014 festival.
Want to join the fun for future Sofar L.A. sessions? Sign up here!