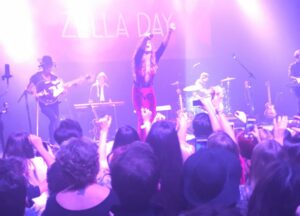 With 2015 coming to a close, it's safe to say Zella Day can remain on your radar in the coming year.
The incredibly beautiful and talented singer (who is only 20 years old!) proved last night that she's here to stay when she perfectly performed a multi-song set for a packed crowd at Hollywood's Fonda Theatre, where the band Harriet opened.
Bred in the tiny town of Pinetop, Ariz., the superstar-on-the-rise, who was clad in a sexy, low-cut red velvet jumpsuit, gave an ode to her father and to the country music he was fond of during her upbringing.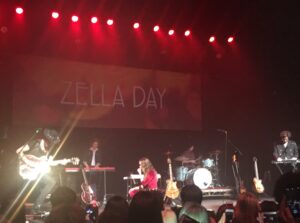 Although indie-pop is much more Day's forte, she also recognized classics, including The Rolling Stones' "Wild Horses," which she said she performed at her best friend's wedding before she hit it big – and Fleetwood Mac's "Rhiannon," which she covered gracefully last night.
Day, who released Kicker in June, also performed a selection of songs from her 12-track LP, including "East of Eden," "Hypnotic" and "Compass."
And in the spirit of the season, she closed out the show with what else, but a Christmas song, of course!
[divider_flat]