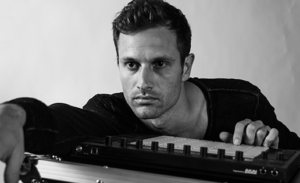 It wouldn't be a real song if it didn't tell a story, right? Well, Tony "Genesee" Moras has experienced alcohol abuse, Attention Deficit Disorder struggles, and falling in love – which has led him to 1.5 years of current sobriety and a three-song, just-released '80s synth-pop-sounding EP Always (scroll to the very bottom), which explores his journey to the present.
"The first year of getting sober is very inspirational and very openminded," Moras tells skyelyfe of divulging his personal life on the EP. "You're open to expressing yourself and talking about a lot of things. The next few songs on the album are going to be about my sobriety. I feel great. I could be drunk and doing drugs and write an album, but it would probably be a different kind of album. I can't wait to listen to this like five years from now and be like, wow, that's when I first got sober."
But even at his very best, Moras admits his "brain is still chaotic." And his hectic mindset is something he addresses in the song "1993."
He explains of the track: "For some reason, I'm going through the same thing today that I was in 1993. I still have the same people talking in my head, the problems that I had in 1993. So I was ten years old in 1993 … that song is about how nothing's really changed for me. My looks have changed, but the mental stuff is still there. Can I deal with pressure? I'm still under the same pressure. Do I get nervous? I still get nervous."
Part of what's kept him going during this sometimes tedious journey is his girlfriend of 2.5 years, Samantha Atkin.
"The song 'Always' is about my girlfriend," Moras, who lives with his significant other, says with a smile. "She has a tattoo underneath her left boob that says 'always.' She's a very cool inspiration for me with lyrics and stuff. She's always there – literally. Any time I write a song, she's always critiquing it or always giving me words to use in the verses to the chorus."
Moras combines his love for electronic music with his self-proclaimed "emo voice," to create a style he says is similar to that of Owl City or The Postal Service.
"This specific EP is electronic music," he explained. "I really got into listening to Axwell, Avicii. I don't want to take that tropical house route. Everybody's going that tropical house route. I still want to go back to the basics of trance and house."
But above all else, the influence behind his brand as a musician comes from living in L.A., a place the Ohio native has proudly called home for 15 years.
"I made the EP in my place on Genesee," Moras says of his West Hollywood dwellings. "I'm on Melrose [Ave.]. I'm a huge Melrose hoodrat. I've lived there about seven years. I love L.A., and that's why I wanted to name [myself] after this street called Genesee. Basically, my studio is on Genesee. I have a great mixer in New York and a great mixer in Indiana, and they do all the final mastering, but at the end of the day, I [make the songs] on Genesee."
When it comes to L.A. lifestyle, the former nightlife connoisseur reminisces of fun times at iconic then-hotspot Les Deux, a la the days of The Hills, a show he enthusiastically calls "great!"
But as for present times, Moras says the Houston brothers (Mark and Jonnie Houston) are really the face of the social scene right now in Hollywood.
From Harvard & Stone and Pour Vous, to No Vacancy, Good Times at Davey Wayne's – and most recently Break Room 86, these guys have really changed the game of L.A. nightlife.
"I love that place," Moras says of The Line hotel's '80s-themed, Koreatown-based hotspot. "I think the Houston brothers are doing a great job. When I first moved to L.A. – before there was Facebook and MySpace, the only way you really knew what was cool was by way of a text message. Back then, you'd go to these little hole-in-the-wall dive places. You wouldn't go to the mega Lures and the giant clubs SBE does. People went to the really cool places like El Centro. The Houston brothers gave Break Room 86 a theme. It's making people feel not so commercialized and jammed into a room."
But as someone who now lays low when it comes to hitting the town, Moras is more likely to keep up with what's being served fresh out of the oven.
"Plan Check is a great burger place," he says of one of his favorite dining spots in the city. "I love Bagel Broker. My favorite Italian in the world is Dan Tana's. It's the best Italian in L.A., I think. Prime Pizza's the bomb. It's on Fairfax right by Rosewood Tavern."
And when he's not eating or making music, he makes time for a little shopping.
"I like Zara," Moras says, adding that he's a big fan of The Grove. "Urban Outfitters is always a go-to. Also, the shop of my buddy's clothing line Sol Angeles. I actually went to high school with this guy. His stuff is in Kitson. It's kind of like the old Hollister look, but it has an L.A. vibe to it, too."
Check out Moras' EP below:
[divider_flat]