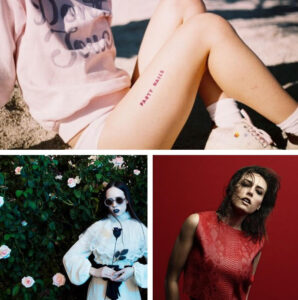 When it comes to pop music, I feel like we are in dire need of some fresh talent.
There's only so much I can take on the radio currently (missing you immensely 2010, 2011 [ie. Loud, Animal, Pink Friday, Teenage Dream, Femme Fatale]).
That said, I have not lost complete hope in the state of pop. Besides, the realms of Top 40 rotation aren't where I should be looking in the first place (obviously).
So, I bring you a list (and playlist at the very bottom) of three incredible up-and-coming independently signed artists with beautiful voices, powerful lyrics and catchy melodies that don't make me want to drill my head into a wall.
Ok then! Keep scrolling to learn about Chelsea Lankes, Allie X and Party Nails:
Chelsea Lankes – Don't be fooled by this singer's Fort Worth, Texas, upbringing. She is anything but country! The edgy sometimes-brunette has already racked up an impressive selection of tracks about love and heartbreak in her short career, with vibrant melodies to accompany her strong lyrics. For those who still have energy after Coachella week one, check out Lankes live at The Satellite in Silverlake on Monday, April 18!
Allie X – The 30-year-old Canadian singer-songwriter (aka Alexandra Hughes) is on the brink of making it big. Not only does she have a handful of solid synth-pop releases, but she has also notably penned multiple tracks for previous tour mate Troye Sivan, while receiving a nod of acknowledgement from Katy Perry in regards to her biggest single "Catch," which the "Roar" singer Tweeted is a "spring jam."
Party Nails – The name says it all! Fresh on the music scene with two energetic singles, New York native Elana Belle Carroll wastes no time posting manicures and other such happenings around town on her social media pages. By the electro-pop sound of the 20-something's songs and her vibe in Cyberspace, there's no doubt we should all want to party with Party Nails — or at least hear her songs at parties. Get one step closer to that goal by checking her out at The Satellite on Friday, April 8.
[divider_flat]