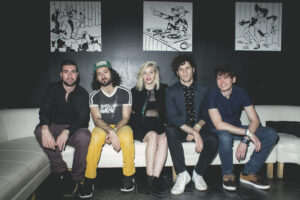 Energizing indie-pop rockers HEARTWATCH (Claire George, Eric Silverman, Rowan Peter, Nate Skelton and Kern Sigala) have been on a high over the last few months.
Following a successful run at Outside Lands music festival in their hometown last summer – and rebranding from what was originally The Tropics — the quintet released their six-song, self-titled, Damien Lewis-produced debut album (scroll to the very bottom to listen!) under the new moniker at the end of February to positive feedback.
The band, who recently performed alongside The Flavr Blue at L.A.'s The Echo, took a moment out of their touring duties to answer a few questions for skyelyfe. Read on to learn about their fans' reaction to the rebrand, what the Bay Area is lacking vs L.A. and why the Eastside is the place to be in the City of Angels.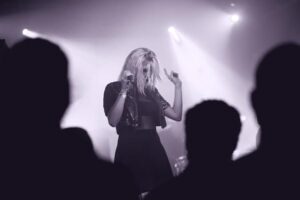 skyelyfe: Why did you choose to rebrand and how did the name HEARTWATCH come to be?
HEARTWATCH: There was some confusion with another artist with a similar name. After announcing festival appearances last summer, the confusion reached a point where both our teams ended up speaking and we decided it would be easier to change our name and rebrand. It was an interesting time for us and a big summer of festival shows, and we had just finished recording a new album, so we dove head first into it and picked a new name. We all got together and made lots of list of potential names and HEARTWATCH was on all of ours. It's actually an old B-side from our first record that we never released so it already had some personal meaning for us and was already part of identity.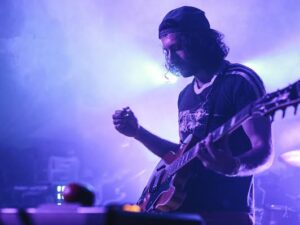 SL: What has been the overall fan response to the rebrand?
HW: It's been fantastic! I think our fans came along with us easily and were really engaged in the whole process. We announced the name change at a show in San Francisco and people were definitely surprised, but were into it. SF Weekly ran a big piece on it which helped as well. The most fun thing we did was make a "conversion kit video" to help people convert their old vinyl to HEARTWATCH vinyl. That was a blast to make.
SL: What did you enjoy most about The Echo?
HW: We'd never played The Echo before but we'd heard so much about it! We couldn't wait to get there and play!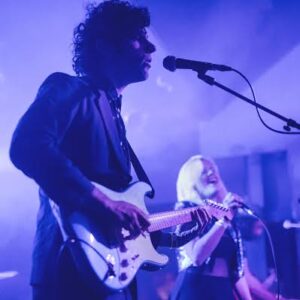 SL: What are your thoughts on S.F. vs L.A.?
HW: They are pretty different cities, musically, visually and vibe. We love playing L.A. and have always had a great time there, but S.F. is definitely home. Los Angeles has the most incredible breakfast tacos. We don't have those in S.F. — yet.
SL: Favorite places to eat, sip, shop and hangout in L.A.?
HW: When we were playing The Wiltern with MS MR, we spent about four hours combing through records at Amoeba, so we were excited to pop in there again. We like to hang out in Los Feliz/Silverlake with some friends and hit up Good Luck Bar.
[divider_flat]