I don't know about you, but by the time May 2021 rolled around, the thought of dining out in one more makeshift "patio" made my skin crawl. Of course, I understand the importance of COVID safety precautions, but the lack of ambiance (and oftentimes music) wasn't worth it just to have a mediocre meal outside of my kitchen. That's why, with the Delta variant in full force months later, I cringe if someone suggests dining at even one of the best outdoor patios near West Hollywood.
If that's the only option, I'd rather stay home… or so I thought. I recently had dinner at Nic's on Beverly, per the suggestion of a girlfriend. She'd recently dined at the vegan establishment on a date, and raved about its lush outdoor decor. One look, and I changed my opinion about outdoor dining. This place is a gem! I also like the idea of going places that aren't chockfull of tourists. Usually it's the slightly lesser-known spots that carry the all the charm.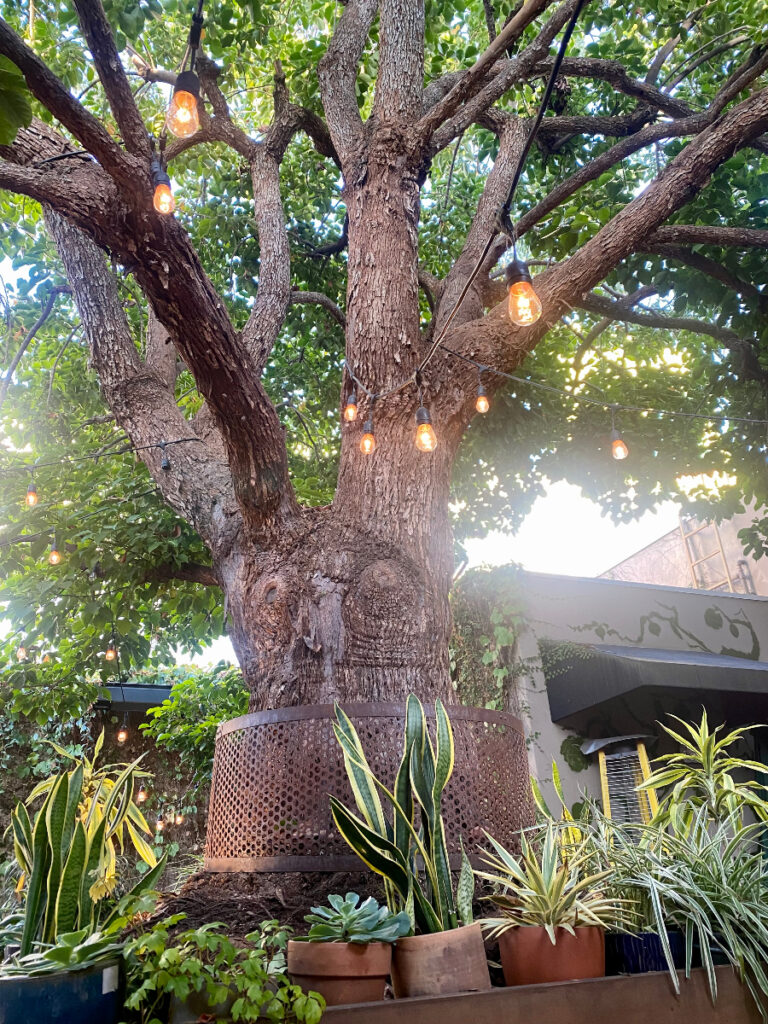 To provide more on the best outdoor patios near West Hollywood (because we all know that's the best part of town! *wink*), I reached out to photographer Ricky Campos, a foodie and fellow Angeleno. Keep reading for his recs—especially if you want to avoid tourists!
In L.A., good brunch spots that provide generous portions and bubbly pours are hard to come by. I love that Breakfast Republic meets the mark on those two. Also, their lovely patio does not disappoint. This is a cost-effective brunch spot great for al fresco dining. Added bonus? They have locations all over San Diego and Orange County, too!
Located in Hollywood's hip, newly established Sycamore District is this elegant French bistro with an outdoor patio that almost rivals their indoors, which gives off major NYC vibes. Their halibut is a must-have, and the sexy mood lighting is also great for an outdoor patio date night.
When you're in need of somewhere simple yet super satisfying—with a lovely patio—look no further. This restaurant's sandwiches are my favorite, and lunchtime is when I enjoy visiting most.
If you're looking for a place in West Hollywood with excellent views, Harriet's is the place to go. With eclectic food and drink options, this place is not to be missed—especially for an epic L.A. sunset on their patio. This spot's outdoor concept is truly one-of-a-kind, and for a dining establishment tucked inside of a Sunset Blvd. hotel, it still remains a hidden gem!
Speaking of Harriet's Rooftop, check out our full review of the scenic hotspot by clicking HERE!