Holiday shopping for a coworker, a Secret Santa, or for someone's Christmas stocking? Depending on how well you know the person, gift-giving can be a challenge—especially if you want to buy something practical yet cost effective. Enter: bathroom gifts.
Everyone has a bathroom—and whether they like it or not, they're forced to spend quite some time in it. That said, you really can't go wrong with swooping up something for the loo.
Whether it's a soap, a candle, an aroma or a bath accompaniment, trust us when we say bathroom gifts are always welcome. Keep reading for 10 bathroom essentials under $25 that anyone will want in their stocking.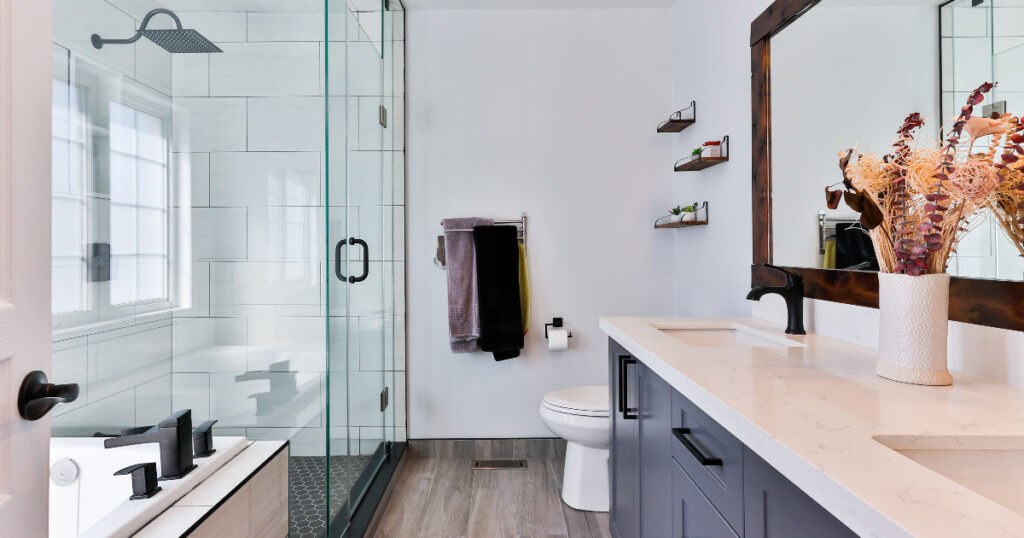 Graffiti Library Naughty Santa Candle: $25
Candles and holiday season go hand-in-hand, and this adorably designed Santa candle will make the perfect bathroom beauty counter adornment in the weeks ahead. This all-natural scent of "holiday spice" was hand-poured in Los Angeles, with partial proceeds benefitting rising local artists.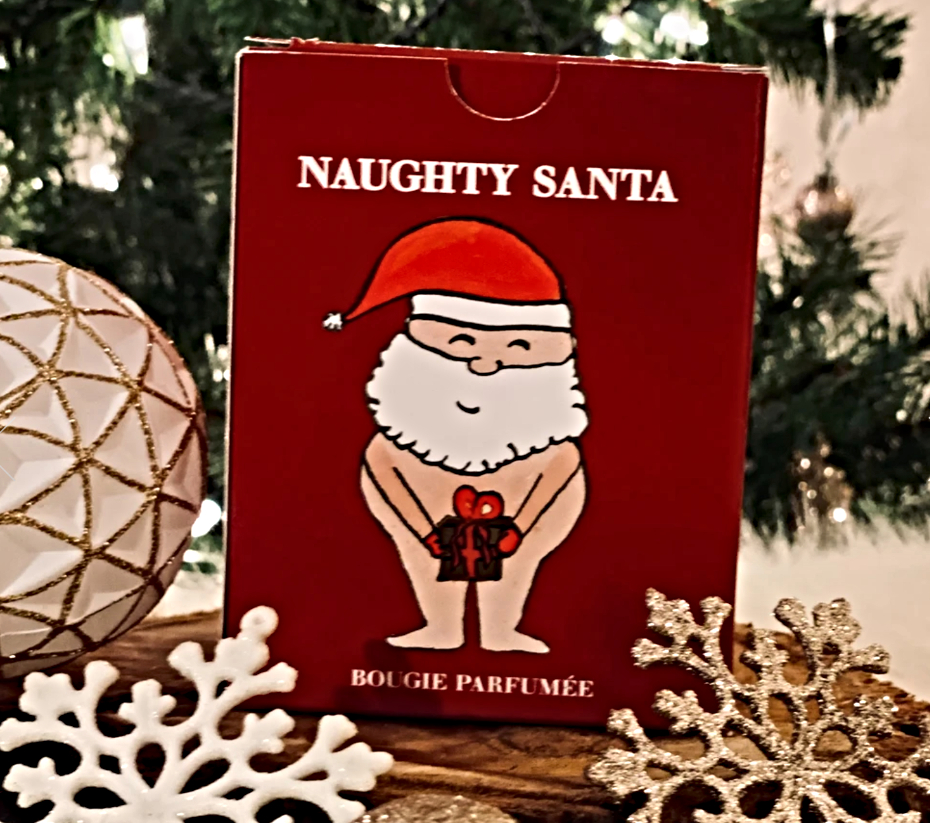 Davids Premium Natural Toothpaste, Herbal Citrus Peppermint: $9.95
What bathroom stocking stuffer guide could possibly be complete without some kind of dental hygiene product, amirite? Davids' colorful, eco-friendly toothpastes not only make for a pretty accent on the beauty counter, but they come in a handful of flavors—including this recently released, uniquely satisfying, Herbal Citrus Peppermint. Promoting natural whitening, anti-plaque and fresh breath, you really can't go wrong with this Goop-approved purchase!
Paddywax Petite Diffuser, Fresh Air: $18
Fragrances are personal, yes—but when it comes to most people's bathrooms, the goal is typically to keep things light and fresh-scented. Paddywax's bite-sized Fresh Air reed diffuser neutralizes the bathroom's air, while adding refreshing hints of eucalyptus, marine, jasmine and sea salt to the room. Added bonus? The reeds come in a sleek, blue, glass bottle that'll make quite the chic addition to anyone's bathroom beauty counter.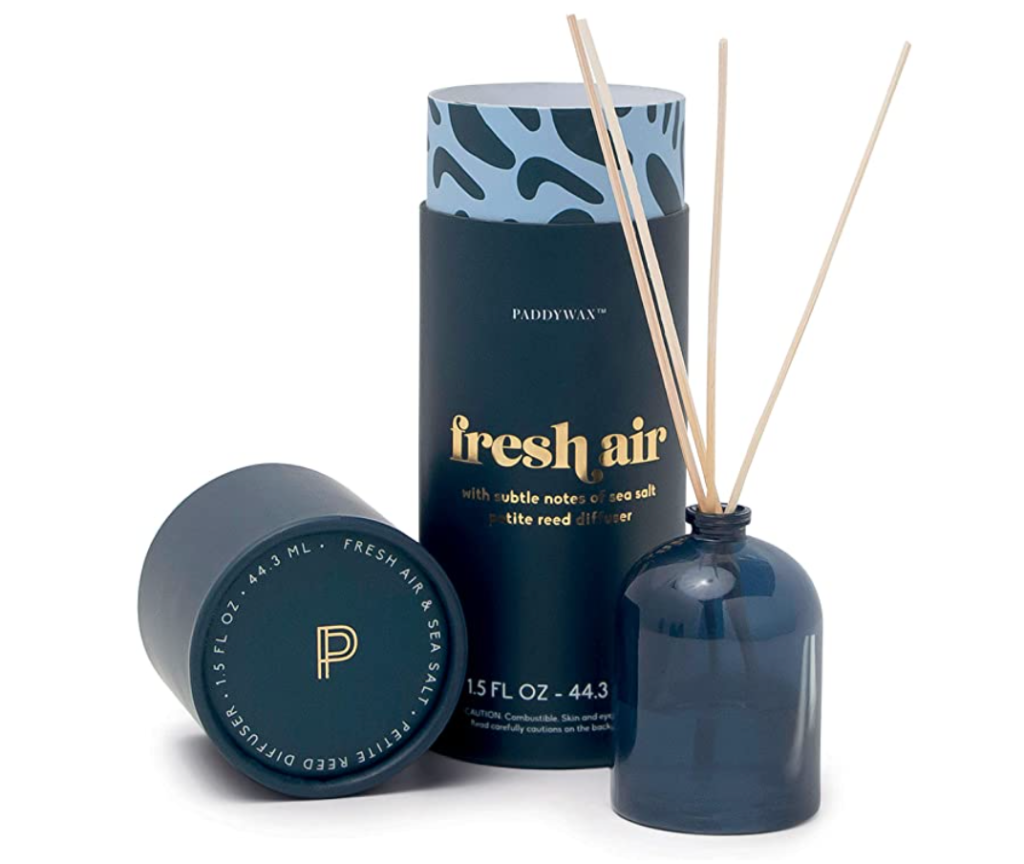 Bubbly Belle Melting Snowman Bath Bomb: $13.97
Bubbly Belle's deliciously scented bath bombs are not just any ol' bath bombs. Each of these handmade tub accompaniments contains its own unique bling when the bomb dissolves—so you're basically gifting a 2-in-1 treat. We love this melting snowman in particular because it's just too cute. And who can go wrong with combined aromas of Christmas tree, sandalwood and vanilla? All your recipient need is a festive candle, and their next bathtub experience is sure to top them all.
Barefoot Scientist Sleep On It Overnight Moisturizing Gel Socks: $22
Pedis have always been in, but day-to-day footcare maintenance? Not so much. That is, until Barefoot Scientist—the first skincare line solely devoted to feet—came onto the scene in 2019. With its sleek packaging and easy, effective products that match any concern, it's put this new wave of self-care on the map. The brand's overnight gel socks are a must for any gift recipient. Not only do they come in a fuzzy, turquoise-colored material that's easy to wear around the house, but they're infused with a soft, scientifically formulated moisturizing gel that boosts skin's nightly regenerative processes. Releasing an antioxidant-rich blend of shea butter, argan oil, rose oil, jojoba oil and vitamin E over the entire foot, users will wake up with feet that are more supple and smooth—a must for these dry, winter days ahead.
ModiBodi Period Underwear: $24 (one pair, moderate-heavy protection)
Save someone bathroom space, convenience and significant cash by snagging them a pair of ModiBodi period panties. While perhaps not the sexiest of options, it may, in fact, be among the most savvy (and best for the environment!). We've tried these ourselves and they really are shockingly leakproof on even the heaviest of days. They're comfy, easy to clean and can be worn time and time again. It's probably not the gift your recipient expects, so it'll be a pleasant surprise when they receive an item they never knew they needed!
Poo~Pourri Go-on-the-Go Holiday Gift Set: $9.95
Ah, leave it to none other than Poo~Pourri to liven-up the glorious act of going No. 2 (ugh, grossed out just writing this). The brand, known for its array of pre-poop toilet sprays, created a festive assortment of scents (with joyful names to boot!) to spritz before you squat. Complete with traditional holiday aromas of black currant, sandalwood, pine, bergamot and more, you're sure to get your scent-ual fix from these pocket-sized products.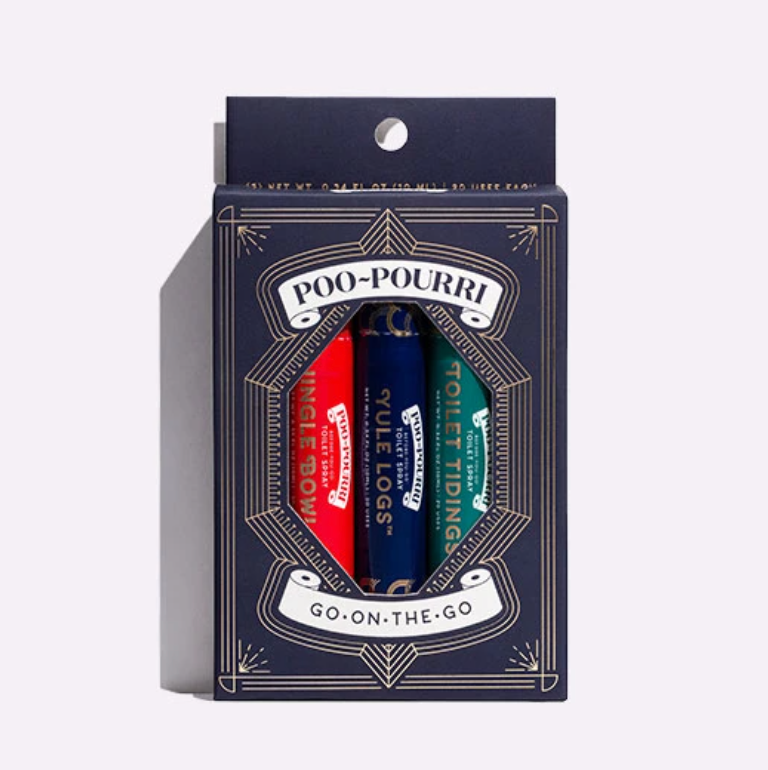 OSEA Travel Size Undaria Algae Body Oil: $18
Elevate someone's bathtub experience by capping off a cleanse and clean shave with this best-seller from OSEA. Fresh from the Malibu ocean, undaria seaweed is infused into a blend of luscious seed oils—açai, babassu and passionfruit—to hydrate, firm skin and reduce the appearance of stretch marks.
Jo Malone Lime Basil & Mandarin Body & Hand Wash: $25
When it comes to luxe bathroom gifts, Jo Malone is it. And snagging anything associated with their signature Lime Basil & Mandarin scent at a whopping $25 is the ultimate steal. This iconic aroma is not only the brand's longtime standout, but also a classic when it comes to fragrances altogether. Treat someone to the ultimate bathroom beauty counter flex with this body and hand wash that's sure to wow.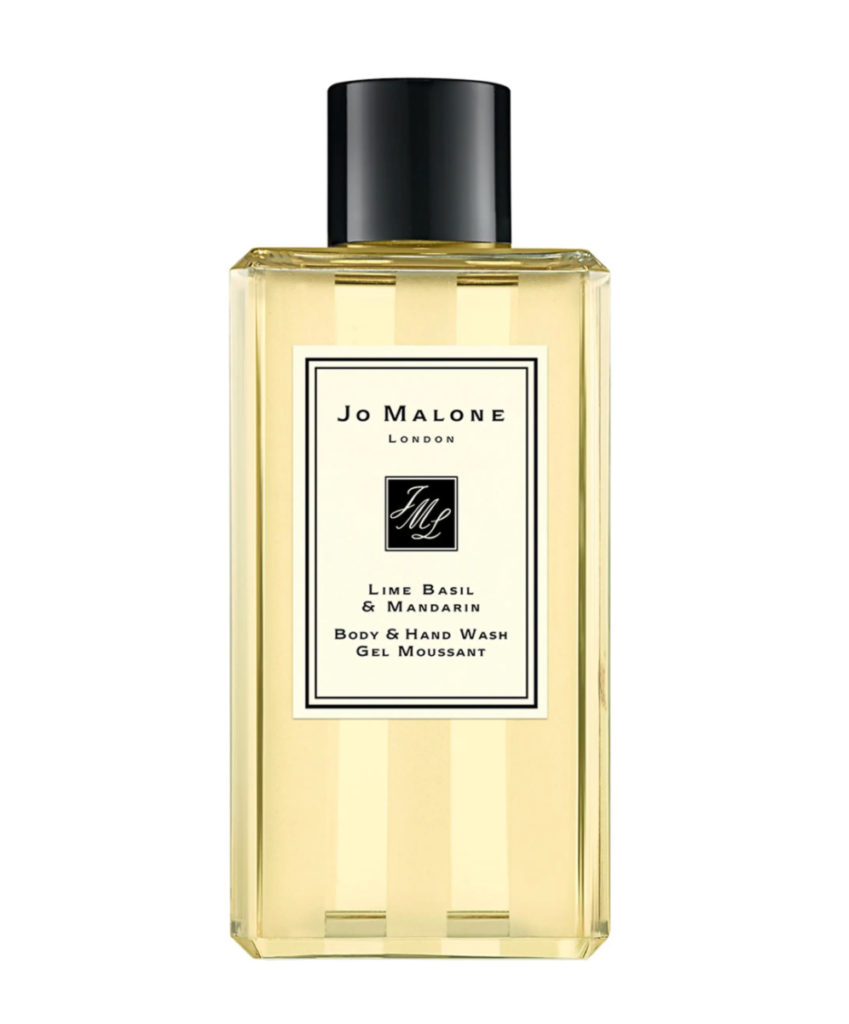 West Elm Organic Dashed-Line Sculpted Shower Towel, Dark Horseradish: $24.50
There's no such thing as too many shower towels, and this durable, cotton-woven make from West Elm is sure to please. The gold accents and modern design keep things stylish, while the rich, plush texture is sure to keep its wearer warmly bundled-up in the chilly days ahead.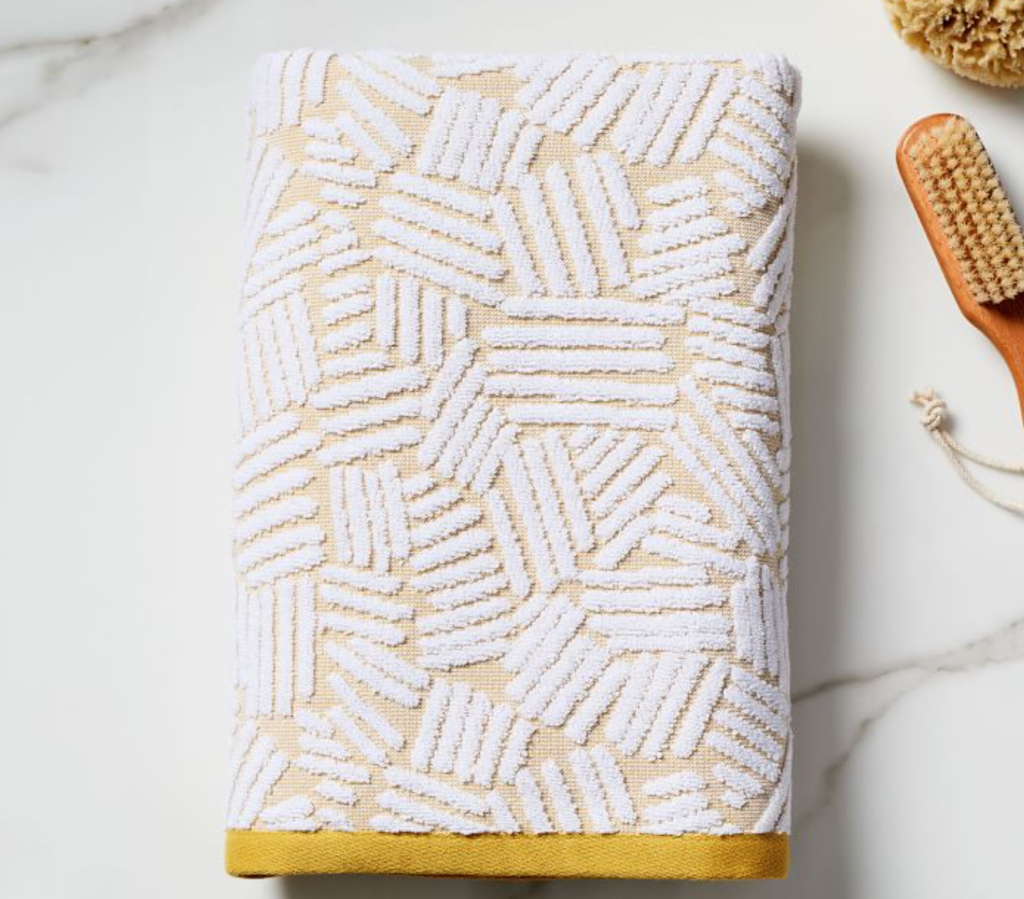 Need more gift-giving ideas? Click HERE for our ultimate beauty and wellness gift guide!