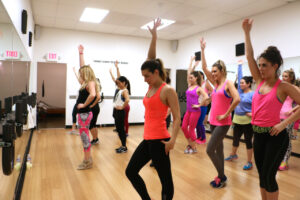 "Toxic?" Check. "Work Bitch?" Check. "…Baby One More Time?" Check.
Yep, I somehow managed to learn some of Britney Spears' most notable dance moves, thanks to instructor Hillary McGranahan of Spotlight Dance Parties, along with fitness blogger (and my former E! colleague) Whitney English of To Live & Diet In LA.
Whitney invited a selection of her friends and fellow blogging buddies to take part in a night she called Britney, Booty Shaking + Bubbly, which was pegged to Valentine's Day and celebrating love for one's self. Approximately 20 ladies gathered inside West Hollywood's Best U Studio, where we learned select choreography to three of Ms. Spears' top music videos. And while it was pretty fast-paced, most of us managed to catch on quick, leading us to perform to a megamix at the very end.
Following our sweat sesh (trust me, it was a lot harder than it sounds!), we gathered in the lobby of the studio, where we mingled, sipped wine and champagne and noshed on some of Whitney's healthy, home-cooked delights. We were also sent off with a girly gift bag, that included Lorna Jane tanks, a trio of Marquis O3 organic sugar-free energy drinks, SpaRitual nail lacquer, workout class gift cards and brownie brittle.