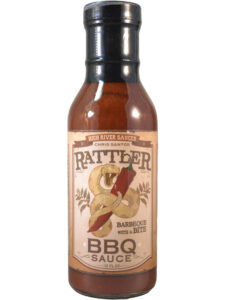 I am by no means a gourmet chef, but I will say that with the right touch of Chopped star Chris Santos' brand new Rattler BBQ sauce, I made a simple turkey burger (his recipe calls for beef) turn into a mouthwatering delight. Granted, there were other ingredients involved, but this sauce, which has the perfect amount of tang and sweetness, really made the meal come to life.
Santos – who is chef and partner of NYC hotspots Stanton Social and Beauty & Essex – provided a recipe using his delicious, smokey concoction. I have made the dish as he instructs, but also with some varying ingredients (it still tastes divine without the bun – and a little topping of avocado and/or sauteed mushrooms never hurt anyone! I also opted for turkey instead of beef, but that's just a personal preference). The specialty condiment, made by High River Sauces, costs less than $10 a bottle. Bon appetit!
**If you are only cooking for two, note that you only need a very small amount of what is suggested for the cheese and sauce measurements in the recipe below:
Chris Santos' Kobe Beef Burger
INGREDIENTS
1 cup cheddar cheese, grated
2 pickles, sliced
Kobe Beef Burger Blend:
1 lb. ground kobe beef
2 tB. soy sauce
2 tB. Worcestershire
2 tB. butter, softened
salt
pepper
Rattler Burger Sauce:
1 cup The Rattler BBQ sauce
½ cup ketchup
½ cup dijon mustard
PROCEDURE
For the burger blend: Mix all ingredients together and then mold the burgers into 2.5oz patties. Lay the patties on sheet tray, cover and chill.
For the sauce: Combine all of the ingredients. Taste and season with salt and pepper.
To finish: Grill the burgers on ones side until dark. Flip and add about 2 tB. of cheese per burger and cook to your desired temperature. Slather the bottom of the bun in sauce. Layer pickles on the bottom of the bun. Top with the finish burger, one slice of tomato and the top bun, also slathered with the sauce. Serve with a pick through the burger.