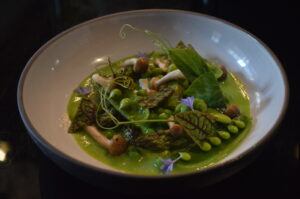 There's about a week left to get a taste of Riviera 31's Revealed, Collection D'Art menu at the Sofitel Los Angeles hotel – a three-part dining experience inspired by 20th Century art.
The limited time opportunity kicked off in the middle of April with Cubism, followed by Surrealism, which ended earlier this month. Fauvism is the final of the three art movements explored, and its menu, created by Executive Chef Victor Boroda, is available through June 30. Bruschetta, tuna carpaccio and a unique spring garden salad are included courses, and they are paired with a rum and fresh raspberry cocktail named after the famous Dutch painter Kees von Dongen.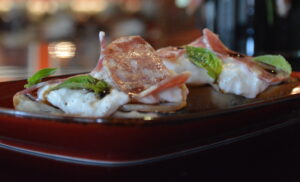 I was fortunate enough to reward my taste buds with nibbles from Surrealism, so I cannot wait to sink my teeth into this last option.
The menu coincides with an actual exhibit taking place in the hotel's restaurant, bar and lobby – curated by Olivier Widmaier Picasso, Pablo Picasso's grandson – demonstrating the work of famous painters whose intimacy and daily life are, indeed, revealed.
Riviera 31
8555 Beverly Blvd.
Los Angeles, CA 90048
(310) 278-5444