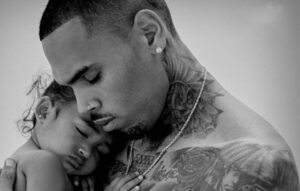 We poppin' like aaaayo because it's Breezy's birthday, and it gives us an excuse to listen to his music on repeat all day today!
The incredibly controversial (yet oh-so-talented) multi-hyphenate turns 27 today, with lots in store.
Aside from celebrating his birth on Cinco de Mayo, Chris Brown just released the first single off his new album, which is reportedly titled Heartbreak on a Full Moon. The new jam is called "Grass Ain't Greener," and my guess is there's a chance he'll perform it tonight during his scheduled appearance at Sutra night club in Orange County, CA. Scroll to the very bottom of this post to hear it.
Although there is much negativity associated with Royalty Brown's dad, today is strictly about the music. So, lets celebrate one of the most gifted artists in history with the playlist below of his 27 best songs (in no particular order):
[divider_flat]