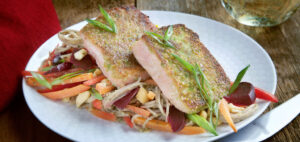 You may recall that mouthwatering turkey concoction I posted about in February. Well, that decadent burger was courtesy of a Chris Santos recipe, and I have once again put my skills to the test, thanks to the Chopped judge, who also owns Manhattan's Beauty & Essex.
Santos recently teamed up with Chef'd home delivery service to give his fans the opportunity to make some of his signature dishes on their own. For under $40, you now have the option to create his Ancho Caramel Glazed Pork Tenderloin, BBQ Sushi Tuna Satays, Pan-Roasted Hanger Steak or Wasabi Pea-Crusted Salmon – which is what I opted for!
Each order comes with very precise instructions and every single ingredient you need to feed two people. The salmon I made was delicious! It came with most incredible wasabi pesto recipe. It took about two hours, but the wait was worth it. I got to treat my dad to a home-cooked meal for Father's Day!
But regardless of the occasion, I highly recommend teaming up with a friend, roommate or significant other and using Chef'd as a tool to have some kitchen fun! There are a slew of other renowned cooking stars also featured on the site, including Food Network's Rahm Fama, Top Chef's Fabio Viviani, healthy living expert Keri Glassman and the bloggers from Spoon Fork Bacon.