When it comes to the act of tanning and the products involved, I've tried it all. From professional airbrushing, to Versa and Mystic spray tan booths, to tans-in-a-can, to heck, even those now-taboo beds (the latter I have not tried in approximately a decade), there seems to be no limit to the ways we obtain color.
That said, not every tan is appropriate for every situation, and I know that if it's not leading up to a big weekend or an instance where I need to impress, I don't always have the time – or patience – to take off my clothes and deal with a sticky, smelly, and sometimes streaky, mess. Sometimes you must be willing to sacrifice that Bahamas-like glow for a quick fix that will still get the job done to some extent.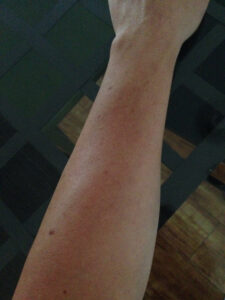 I recently got my hands on Comodynes packets, and if I'm simply just heading out to run errands and I don't want to be a pasty ghost, these guys are the way to go. They don't overly bronze you, but they give you just enough of a noticeable color kick to go about your casual day. Because they are not too intense, they go on incredibly easy, the color shows up relatively quickly and I haven't experienced any streaking or foul odor. In fact, I actually don't mind the scent of the wipes (which go on clear), which is a rarity for tanning products I've tried.
Comodynes packets, which have been featured in Birch Boxes, come in several different options. I noticed the most color when I tried the Self-Tanning Natural and Uniform Color (pictured), but I didn't experience problems with any of the ones I tried overall. Each option of towelette sets are reasonably priced (approximately $11 – $15 per set of 8), and as long as you exfoliate beforehand (Comodynes Easy Peeling towelette is what the brand recommends for that), these products should go on in seconds without fault. Does the color last for days? No – But with these, that's not really the point.
Swoop up your sets at your nearest drugstore or on the Comodynes website.