I can't think of one person who isn't a fan of Taco Tuesday.
Whether it's the camaraderie, beer or tequila-filled cocktails that accompany the festive day of each week, who doesn't enjoy kicking back after a long work day over popular lite Mexican bites?
If there's anyone who can speak about tacos, it's none other than Machete actor and Trejos Tacos owner Danny Trejo.
Skyelyfe recently caught up with Trejo at the V.I.P unveiling of his Miracle Mile restaurant's taco truck.
In between noshing on cauliflower, grilled chicken and brisket tacos, while sipping on horchata, I asked the Echo Park native to provide his tips for the perfect taco, what he thinks of fast-food taco spots and much more! Scroll below for legitimately everything you need to know about everyone's favorite Mexican food!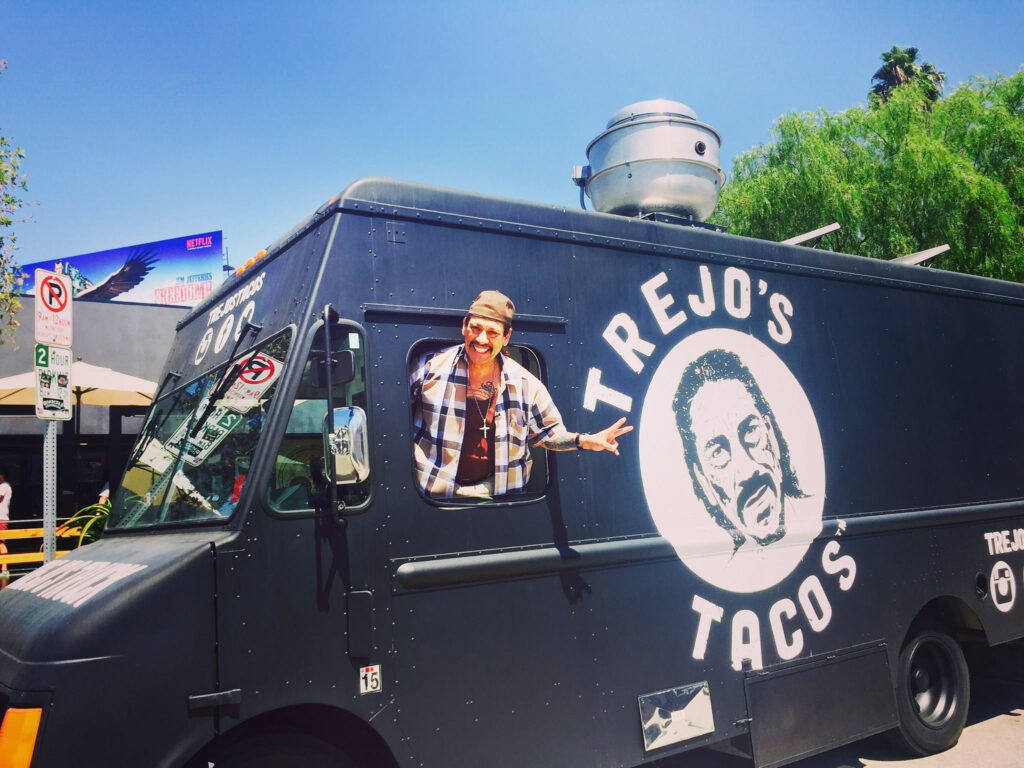 1. What is your ultimate must-have taco ingredient?
Salsa, salsa! My mom had three different kinds of salsa: mild, hot and go to hell [laughs]. My dad would eat the go to hell. You get near it and you burn yourself!
2. What's the craziest taco combination you've ever tried that most people wouldn't think of?
I love meat, I love brisket. I love the brisket taco. Put anything you want in it. Put the sweet in it, put corn in it. That brisket is delicious.
3. Why do you think tacos are so popular among all cultures and generations?
I think they're simple, they're healthy. Even before we started this, tacos were actually healthy. I didn't even know what gluten was, and I had a girlfriend who was allergic to gluten. So we went all over, eating tacos because tacos are gluten-free. They use a corn tortilla.
4. What's your take on places like Taco Bell and Del Taco? Do those concepts upset you or are you guilty of indulging from time to time?
They're killing our kids. When my kids were four and five and six, you couldn't get them out of McDonald's. Hey, now we've got this big play toy. The Happy Meal is the most unbelievable marketing tool ever. The Happy Meal that poisons your kids. Every parent in the United States is guilty of that. But now, we've got to start eating healthier as a nation … Taco Bell may as well be a phone company because I've got to say, it is the worst "healthy food" there is! It's not good. I don't even think that's real meat, you know what I mean? It's been proven that animals we eat that are dramatically killed are bad for us. That's why we have kids who are obese.
5. What do you love most about tacos?
I love the salsa, I love the spice, I love the flavor. And then now, knowing that it's healthy, it's even better. I can eat all [the tacos] I want, and as long as I walk a little, I'm not going to put on any weight. And that's what's important—that there's no weight going around my heart. I don't have cholesterol because I'm eating healthy.
Keep your eyes peeled for the Trejos Tacos truck at a stop near you!