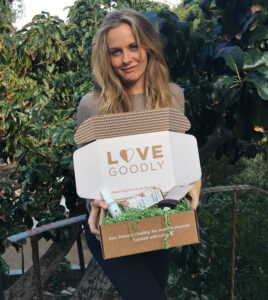 The granola association is a no-go for these two cutting-edge, eco-friendly females!
Decades-long vegan Katie Bogue Miller and plant-based Justine Lassoff, both formerly of LovingEco, have a longterm professional investment in the eco-friendly space, and their latest chic brand development is sure to appeal to pretty much any woman, regardless of their level of environmental awareness.
Love Goodly, the Los Angeles-based ladies' Birchbox-esque subscription box, features luxury, non-toxic, cruelty-free, full-sized beauty, nutritional and home
products for just $39.95 bi-monthly.
Launched in August 2015, the brand just collaborated with longtime vegan, PETA enthusiast and The Kind Life blogger/actress Alicia Silverstone (more on that below) for next month's Earth Day-inspired box in celebration of the April 22 holiday.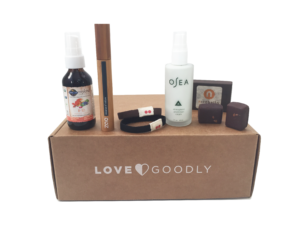 Skyelyfe recently took a tour of the Love Goodly headquarters in Downtown L.A. and chatted with the lovely ladies of the company they described to Forbes as a "Green Sephora."
Kindly gifted with one of February's Valentine's Day-themed boxes, the assortment of high-end products (LVX high gloss nail polish, Purely Elizabeth muesli mix, May Yeung infinity bracelet, SkinnySkinny body soap and Cellar Door candle) went to immediate use. And the verdict? Two thumbs way up!
Read on to learn more about the hand-picked products, Silverstone's involvement and what sets this box apart from other subscription boxes besides the environmentally friendly aspect.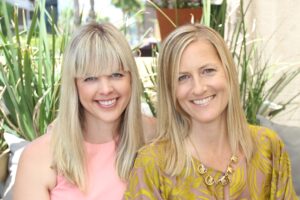 skyelyfe: I love this concept! Give me a general overview of these boxes and their products.
Katie Bogue Miller: We've been able to harness the relationships we've had with these brands for seven years, and we've kind of become experts in this space. At Love Goodly, we're helping women discover brands that are better for you and better for the environment. Everything in each box and on our website is non-toxic, cruelty-free, vegan and we offer a mix of products. It's a little heavy on the beauty and skincare just because we listen to our customers and that's what they like. And then we offer a healthy snack or a candle and a stylish accessory like a bracelet or a necklace. We have two charity partners: Farm Sanctuary and Cure Cervical Cancer.
SL: I heard that Alicia Silverstone came on board for the April box. How exciting! How did that come to be?
KBM: As a longtime vegan, and recent vegan mom with a vegan toddler, I have been inspired by Alicia Silverstone and her Kind Life blog. She was a natural choice as guest curator for Love Goodly, as a health advocate and leader of the Kind Movement.
SL: Aside from the products being eco-friendly, what makes these subscription boxes different from all of the others?
KBM: Curation is the key for us, really. We try everything, use everything. Some other boxes are filled with a bunch of samples, but ours contain full-sized products, and we have a mix of products so it's not just another beauty box.
Justine Lassoff: Also, the value sets us apart from others. Each box is worth more than $85, so you get a lot of value for what you're getting in the box. But, as Katie said, a lot of the other companies just want to get samples in, so if you're a company, you can just send free samples and so you get just a bunch of tiny products. None of them are really that great, so we took the other route. We carefully research each brand and make sure it's a great brand. I think it's just a better experience because you're not just going to open a box and throw these away. Because of our past, we have a lot of connections to brands, so we do exclusives, too. You can't find some of our products anywhere else.
KBM: Also, we have eleven values on our site. So, whether it's gluten-free, cruelty-free, vegan – all of our products have many of those values in them. Also, a mission of Love Goodly is to get rid of that kind of granola stereotype. So all of our products are luxury, too. It's an added perk that they are vegan or cruelty-free. We don't even necessarily lead with vegan. It's just this great box and there are these great standards behind the products.
JL: One of the values is give back to charity, so with a lot of the brands we carry, not only do we give a percentage back to charity, but a lot of the brands themselves give back to charity.