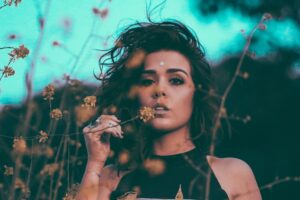 Fresh from a smashing recent Wango Tango Village pre-show performance and yesterday's release of catchy new empowering single "Wildfire" (be sure to scroll to the bottom for its lyric video), indie-pop artist Noelle Bean – whose stage name is simply just Bean – is floating on a sound cloud, but she didn't envision musical stardom in her cards growing up.
Unlike so many other artists who dropped everything to pursue a career in music at a young age, the 23-year-old – who didn't even pick up a guitar until she was almost 19 – was your average teenage girl, living in the south and going to church.
"I wasn't planning on any of this happening." the West Hollywood resident told skyelyfe of her current reality. "I wasn't meaning to move out to L.A. and have this kind of life or anything, but I fell in love with music and it led me here, you know? It's awesome."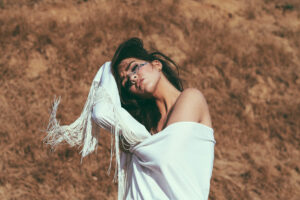 After learning how to play different chords, "I eventually started putting all these poems that I had in a big compilation of journals and I was like, maybe I can make songs out of these," she explained. "And so that's what I did. I put the words with the chords and I put a melody over it. I put it up on YouTube and I'm signed to an indie label out here in L.A. now."
Last week I met up with Bean for the first time to discuss the release of her new single, among other things. She greeted me with a big hug and the most engaging "hi!" I knew right away, this would be like catching up with an old friend.
The first thing I noticed were her uniquely manicured gels, popping with this incredible purple shade, adorned with these tiny gold triangles at the cuticles (take a peek at them on my Instagram). She informed me they were done at Tomoka Nails in West Hollywood. After discussing her expert Yelping skills that led her to this gem of a salon, we got to the reaction to that Wango Tango pre-show performance.
"It was amazing!" she said of L.A.'s KIIS-FM radio concert experience. "It's been one of the biggest performances I've done. It was interesting for my set because everybody else was playing a track and was super poppy and then I get up there with my guitar player and my drummer and we did a little acoustic set kind of thing. The response was so much better than I thought it was going to be."
As Bean pointed out, her vibe doesn't necessarily fit the mold of most of the concert's other participants, which included Justin Bieber, David Guetta, Meghan Trainor, Kanye West, Fifth Harmony and Ne-Yo, who were main stage performers.
"As far as my whole take on mainstream music and what's popular on top 40 radio goes, it's undeniable that yeah, I jam out to Taylor Swift tunes every now and again," she said. "But my go-to music is super alternative, like The 1975 meets Foster the People. I listen to a ton of Ed Sheeran – just really alternative, indie band kind of stuff."
Her true persona and musical influences shine through in "Wildfire," a song she called "an anthem for all the other crazy, randoms out there."
The track is a much-welcome change for the pop star-on-the-rise, who laughably rolled her eyes at the thought of last year's single "Rollercoaster."
She said excitedly, " 'Wildfire' is really different and I'm so glad about that because 'Rollercoaster' was so poppy and I'm just like, thank god I'm past that stage!"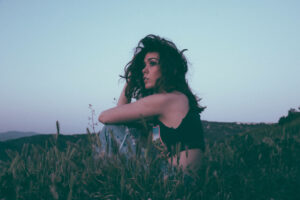 Bean describes her new release as "a compilation of all these different people and their opinions of me. It's everybody in the music business basically saying, like, 'Are you sure that you know who you are as an artist and do you know what genre you are? And you keep changing your look every week. You're wearing red lipstick one day, the next day you're wearing a flower crown and Free People clothes.' "
Referring to herself as "a wildfire," Bean goes on to say, "I'm random, spontaneous and I love everything about the 1970s – just the hippie lifestyle movement."
So, what's life like as a self-proclaimed inner-hippie living in the heart of Tinseltown? There's something for everyone out here, she believes, noting that in particular, she's a huge fan of (first and foremost) her nail salon (see above), Pita Bar and Grill on Fairfax, Fox You boutique and none other than the Starbucks on Robertson and Beverly Blvd.
Check out the lyric video to Bean's new single "Wildfire" below and download the track FREE on iTunes ALL WEEK LONG!:
[divider_flat]