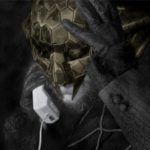 Wow, this is one of the best New Music Mondays I have encountered in quite some time!
For starters, Hortlax Cobra's "I'm Still Here," featuring Ane Brun is the gem of the week. John Eriksson of Peter Bjorn and John is the mastermind behind this act, which is named after the area of Sweden in which he was raised.
For the nu-disco-lovin' lady (or gent) like myself, Gigamesh's "The Music" is like the best thing ever. I can't stop listening to its melodic goodness. Then you have Tove Styrke's super catchy "Number One" for the indie-pop fans.
And for those EDM lovers, Borgore teamed up with Addison for "School Daze," while Just a Gent brings you "Driftless Spirits," Oliver Heldens has "Melody," and Tritonal and Cash Cash came out with "Untouchable." Rest assured, none of these are too bass-heavy.
I am also super stoked for new Wilkinson. If you even slightly enjoy drum n bass, Wilkinson is like the ultimate. Super melodic, easy-on-the-ears kind of sound. I've been a huge fan for years.
Give a listen below for 20 fresh tracks, which also include Ghost Loft, Metric, Disclosure, Elliphant, Powers and Oh Wonder.
[divider_flat]