I am typically in no mood to get dolled up for an event on a Monday night, but when I heard Goldroom was spinning and Zella Day was performing at Lincoln Motor's Black Label launch party co-hosted by Conde Nast, how could I resist?
Well, it was totally worth it. Not only was the music throughout the night obviously on point, but the classy crowd of slightly older folks than I'm used to seeing at these shindigs, along with the chic, but not overly ostentatious Hollywood Hills home where the event took place, just created a calming aura I thoroughly enjoyed being in the midst of.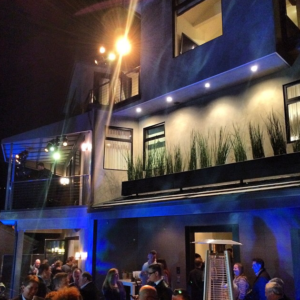 Upon arriving at the event check-in, guests hopped in Lincoln SUV shuttles regularly going back and forth between the initial spot and the actual residence of the party. When I hopped out of my vehicle, Goldroom was spinning his hit "Fifteen," and I knew the night was off to a good start.
Before I get to the rest of the fete, let me give a quick rundown of what exactly we were celebrating here.
"The Black Label program will be available on the MKC crossover and the MKZ sedan for $5,995 on top of the purchase price," Autoblog explains of the luxury motor company's new plan. "It includes custom design themes – with colors and materials only available through Black Label – plus free routine service and car washes for four years or 50,000 miles. It will be offered through dealerships in California, Michigan, Texas, New York, New Jersey and Florida."
When I entered the party, there was tray pass after tray pass of everything from Parmesan-topped risotto, to mac-n-cheese topped with short-rib. The small bites – provided by Along Came Mary catering – just kept on coming. The kitchen table was filled was plates of various cheeses, crackers, nuts, chocolate, you name it. Good thing I came hungry! The event had two bars featuring chardonnay and a specialty gin cocktail.
It was refreshing not to see too many familiar faces and just being able to roam around the party, taking in the beautiful view and checking out the lavish bedrooms upstairs. Meanwhile, massage therapist Paul Metra of the Fairmont Miramar Hotel's Exhale spa was walking around with towels and lotion and giving hand massages to guests.
When Goldroom took a DJ break, Zella Day took on a high-energy, several-song performance with her band on a stage, which was raised only slightly above the pool (I was nervous just watching!).
As much as I was enjoying myself, as 11p.m. neared, I had to remind myself it was indeed a Monday and it was time to hop in a Lincoln and head on home.