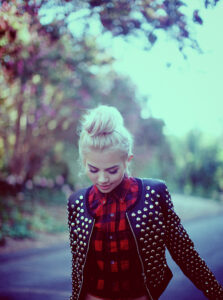 If a person runs a quick IMDB search on Hayley Kiyoko, her name can easily be seen as one of the next on-screen stars-on-the-rise. Having just landed a series-regular role on CBS' CSI: Cyber and starring as lead character Aja Leith in 2015's hotly anticipated Jem and the Holograms movie, the 23-year-old Los Angeles native is quickly making a name for herself on camera.
But acting for Kiyoko was "never part of my plan," she tells skyelyfe. And apparently it still isn't – at least not necessarily longterm.
"The acting is more of how I pay rent," she says. "I started doing it honestly to make money to build a music studio growing up like in middle school. And things just started to progress and it's become a platform to get my name out there. It's crazy, I wasn't expecting it at all."
So, what is the ultimate plan for the part-Japanese beauty?
"Music is my number one passion," says Kiyoko, whose second EP, This Side of Paradise, releases in February. "I love songwriting and performing on the stage. That's what I'm really putting all of my energy into. When I finish [CSI], I'm going to be going on tour. A lot of people think that acting is my main thing, but it's not. I think my fans know that, but people just looking me up might be like, 'Oh, who's this? She's trying to do music?' But that's not me, I've always been into music. I really want to create a brand within my music with my name and I'm starting it from the ground-up."
That said, she is by no means knocking the incredible opportunities that have come her way outside of being in the studio.
"It's really cool," she says of her gig playing TV's Raven Ramirez. "I've never had like a steady job. I never planned on being a series regular on a show. I'm just like going with the flow. It's been fun. I'm going to be a tech hacker and play a really smart person. My brother was like, 'Why do you always play smart people?' I was like, 'Thanks a lot. Thanks, I really appreciate it.' The cast is all really nice and the crew is so nice. It's cool. I grew up doing plays and musical theater, so it kind of feels like being in a production like that, that never ends."
Acting aside, the starlet reiterates, "This past year has just been focused on making good music just for myself and that I really get excited about."
Citing Sia Furler and Metric's Emily Haines as two of her longtime musical influences, Kiyoko also gets into some Frank Ocean and Chris Brown.
"That's what's exciting about music, though," she says. "It's always changing and it's always exciting and you're never doing the same thing."
And speaking of changing music, Kiyoko, who just released the video (see below) for her new single "This Side of Paradise," likes this new "left-of-center pop" that is currently trending.
"I think there's a lot of great music coming out right now," she says. "Like with The Neighbourhood and Tove Lo and Lorde. It's pop, but it's not like the normal Katy Perry-type stuff. So I think that's opening a new avenue for artists like me and other people. They're still catchy, but not, you know, the simple pop equation. With [my upcoming EP], it's definitely pop in the sense of melodically it sticks in your head, but it's a lot of hip-hop and 808s and drumbeats."
But, Kiyoko clarifies, "I don't think there's anything out there right now that sounds exactly like me. I take bits and pieces from other artists and mash it into my own sound. I'm hoping my sound sounds fresh to people."
She adds: "I don't have the Christina Aguilera voice, but I have a certain charm that I think is unique and I write and produce all my music, which really sets me apart [from some other pop artists]. I'm really involved with everything. I'm creating all the artwork and T-shirts. I produce and co-direct all my music videos. My fans know me, I always stay true to myself."
Unfortunately, admirers hoping for an L.A. run-in with Kiyoko may be disappointed to know the chances are slim.
"I just always stick to myself," she explains. "I'm like a homebody. I don't go out in the Hollywood scene. I only go out if I have to. I just do stuff that I love."
And doing just that has taken Kiyoko on the dream journey to where she is now.
"It's kind of crazy because in this industry, you're always going through ups and downs and highs and lows," she says. "But my life has just been great – steadily great. I'm like, what's going to happen? Something bad is going to happen. You can't just be happy, [I thought], but apparently you can!"
5 FUN FACTS
Last concert you went to:
I saw MØ at the Echoplex. It was crazy. She was such an amazing performer. It's very rare to go to a concert and actually have the artist be a good performer. She really impressed me. I'm totally rooting for her. She was crowd-surfing. She's like the ultimate rockstar.
Last time you were embarrassed:
I get embarrassed all the time. I think probably the worst thing is when you're walking by yourself and you trip by yourself. And you nonchalantly kind of walk out of it like you meant to chase something. I do that all the time.
Last makeup item you purchased:
I don't really wear makeup, so I don't really buy any. I would say maybe ChapStick.
Last time you ate junk food:
Well, right now, I'm drinking a peppermint mocha Frappuccino. But I would say the last junk food was probably an orange Kit-Kat.
Last big splurge:
I just bought an iPad. I've been wanting to buy one for three or four years and I finally decided that I need one. I'm really excited about my purchase. I'm finally joining the world.
[divider_flat]