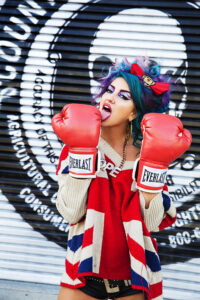 Neon Hitch is back and more raw than ever.
This time around, as she embarks on the July 22 release of her new album Anarchy, the foulmouthed singer, most commonly known for her 2012 dance track "Fuck U Betta," is ready to show the world she's more than "just a party girl."
"You can expect a very honest Neon–from my favorite food (fried chicken at night), to the things I used to get up to when I was a wild child back in London," she tells skyelyfe. "And you really get to hear the more vulnerable side of me. This album came together very naturally and most of the songs are actually freestyles so they were written by my subliminal mind."
Given the nature of her past work, the electropop artist–whose birth name is, in fact, Neon Hitch–acknowledges why she may have a certain reputation, but she notes that she's widely misunderstood.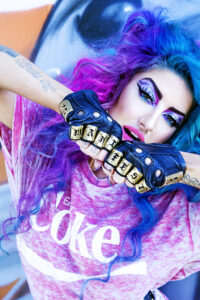 "I actually am a very sensitive and caring person who has been a lone warrior for a long time and my way of survival has been to have this tough emotional armor on that some people misinterpret as unapproachable," she explains. "That's something I plan on changing with this album."
The artist, who collaborates with Liam Horne, Calix and Collie Buddz on this latest compilation of tracks, describes it as "lots more urban than my other work," adding with a laugh, "My alter ego right now is 'Tracy Trapman.' "
As for what she generally wants to get across in her music, regardless of genre, she says, "My message is always freedom and standing for what you believe in."
Hitch, who has in the past collaborated with Tyga and written for Kesha, says she would "love to do a song with" the Spice Girls. And hey, now that three of them have decided to reunite (albeit under a different moniker), she may have a shot!
Collabs or not, the British singer, who recently
gave a surprise performance
at L.A.'s
No Name
bar, is thrilled about her upcoming 14-track album, and thrives off of having music as a platform "to make a change," she says. "I would love to hear more lyrics that inspire people instead of singing about how much money they have or how many bitches they fuck."
[divider_flat]