Feb. 2021 was a month of heightened tensions. With the election outcome finally behind us, there was another topic up for major debate: Are skinny jeans outdated? While opinions are mixed, the fact of the matter is baggy, high-waisted and wide-legged denim is definitely on trend. If this look has thrown a curveball in your regularly scheduled styling routine, you probably need some assistance with how to wear baggy jeans.
To be completely fair, unless you're super into fashion or you dress incredibly casual, these updated denim trends can come off a little odd and tough to master. Especially going from skinny jeans, which are form-fitting and universally flattering, transitioning into the complete opposite overnight can seem like no easy feat.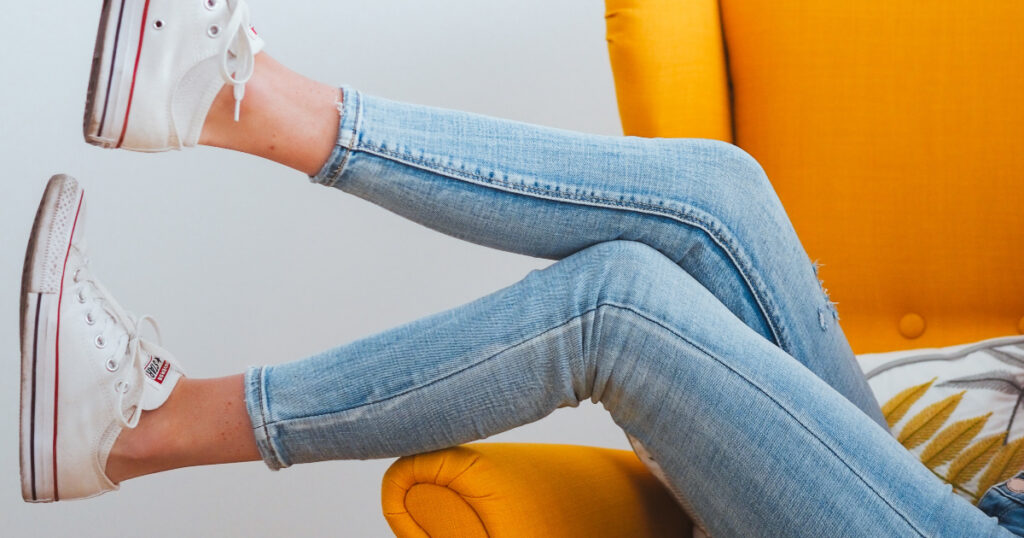 But, if you want to keep up with trends or you're simply ready to leave behind the looks from your sorority days, you'll have to welcome baggy(ish) jeans into your wardrobe.
If the struggle is real (and it's ok if it is!), we enlisted the expertise of Jen Carcich, Director of Product at affordable yet fashionable Revtown jeans. I can speak personally on behalf of the brand's designer-like denim when I say it made me a looser-legged jean convert. I wouldn't say a was a skinny jean loyalist, I'd say I was just a non-jean-wearer altogether with a few skinny jean exceptions (I live in leggings, period).
As the pandemic appears to be on its way out, I realize I have no choice but to embrace "normal people clothes"—and why not be on trend while doing so (as attempted in the photo below)? With that, I'll leave it to Jen, who provides insight on how to ease out of wearing skinny jeans if you're scared to change up your style!
skyelyfe: For the girls who still love their skinny jeans, what are some ways to wear them so that they're still staying in line with current trends and where fashion is going?
Jen Carcich: It's a great question. While many of us may have already moved on from the skinny, I think styling is essential for keeping them on trend. And I must reiterate I also firmly believe that you should always wear what you love and what makes you feel good—so if that's a skinny then you should continue to wear them. That goes for side parts, too.
Have fun with how you pair them, and play with proportions. Balance the streamlined fit of a skinny bottom with a super chunky knit sweater or an oversized blazer. I love monochromatic looks with a cool long jacket layered on top that's classic like a camel, or a super fun plaid pattern. Chelsea boots or other chunkier lace-up flat boots look super cool when paired to a skinny, and will look good with many other more relaxed denim styles, too.
SL: For the girls who want to transition out of skinny jeans but are too afraid, what are some tips to easing into other styles?
JC: Again, stay dedicated to yourself and your style. I think one key delineation is maybe try moving on from anything that's a jegging skinny to even a slim skinny. If you really love the skinny fit, you can still wear something that's body skimming and figure-flattering without it being super skin tight.
A slim fit through the hips and thighs, but that's more relaxed from the knee to the ankle is an easy transition. Some call it skinny, some slim, or even a slim straight leg. I think a simple straight leg, or straight leg crop can be a really easy transition for someone looking for something new but doesn't want to venture into something super baggy or too slouchy. I'm personally a fan of no-fuss and less is more, so I tend to choose styles that lean more classic. I think an easy straight leg with a hint of stretch can be a really great transition. Jumping into a super rigid jean can feel like a big stretch for someone who isn't used to anything but a jean with stretch (pun intended!).
SL: What are the best in-between cuts and styles when you're easing from skinny jeans to mom jeans?
JC: I don't look at this as a one-size-fits-all formula. I think you need to find what works best for you and your length or shape. I think it's kind of cool how many new relaxed styles are showing up, because there really are so many new options to try, so you have choices. Similar to the above, I think a straight leg crop is really easy to style, it's pretty season-less and it looks good on a lot of different body shapes. It's not the latest trend, but it has a lot of versatility to it.
I've heard from a lot of women that they like relaxed jeans but have had a hard time finding something that doesn't make them feel really frumpy or sloppy or like they are trying too hard. You don't have to go to extremes with super slouchy dad jeans or '70s-style flares. An ultra high-rise mom jean or a skinny flare keep it pretty simple and easy, and probably pair well with your other favorite wardrobe items.
SL: What are the best ways to style mom jeans for any body type?
JC: I love a mom jean—especially those with a super high rise. I think they can give great coverage and ideally will sit at the smallest part of your waist, accentuating that waistline. Coupled with that slight tapered leg, they can really make your legs look even longer than might be. In terms of styling, I love keeping it casual. A boxier cropped tee or sweatshirt that highlights that waistline looks incredible on so many women of different size, shape and age.
I also think that keeping that inseam ankle grazing can really pair well with so many shoe options from sneakers, to Birks, to platform sandals for spring and flat boots come fall. What I love about a mom jean is I do see this as a style that many shapes can wear. For us at Revtown, our version does have a hint of stretch and I think that accommodates more curves than you might find in a more traditional pair of vintage rigid jeans.
SL: Why do you think other jean styles are now taking precedence over the longstanding skinny jeans?
JC: I think with so many of us working from home, or just spending so much time at home, period, we all want more comfort—and more relaxed fits and looser styles can deliver on that. Also, I think we're all hungry for something new after this year of so much of the same! I'm a mom of two little ones under 4, and quite frankly, trying to manage everything between home life and work is part of why I go for no-fuss, easy styles that just keep things simple.
I wear my Revtown Shadow Black Classic Straights almost every day. They look a little vintage with the faded black wash, but I'm comfortable doing all the things I do in a day, whether that's on a Zoom or sitting on the floor with magna tiles with my kids. I'm a big believer in you don't have to sacrifice comfort for style—you can have both. And so when I think of the pandemic and this last year, I think it just accelerated this move into relaxed styles even quicker to where the market was originally moving.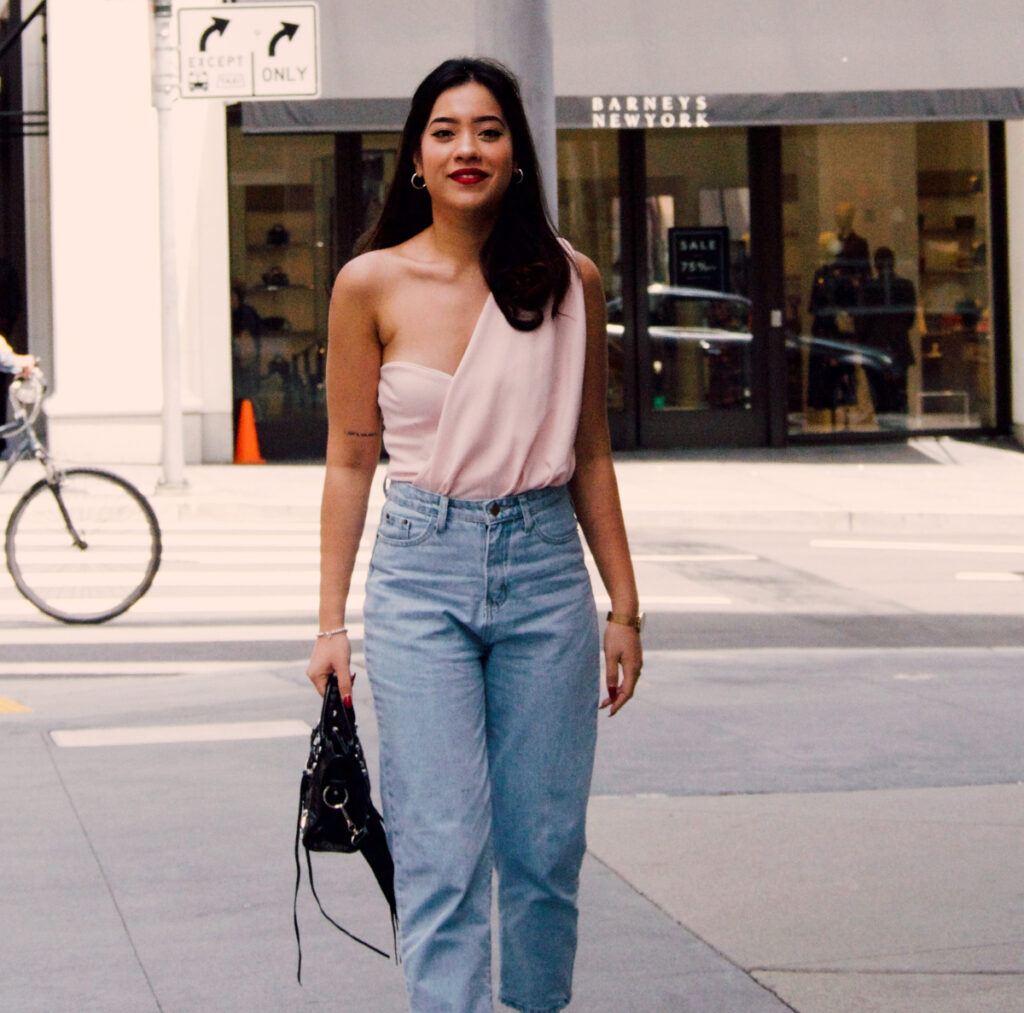 **Revtown is available on Skimlinks and ShareaSale.
On the hunt for jeans or other closet pieces? HERE are five hidden L.A. shopping gems worth visiting!