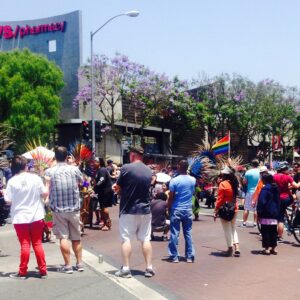 Most of the people I know spend 362 days of the year counting down to Coachella, but for me, LA Pride is my favorite weekend. This June was my fifth year taking part in the festivities, which celebrate equality, and I can honestly say, each year that goes by, the more people you know and the more fun it becomes.
A big group of friends and I kicked off the merriment at the festival on Friday night at West Hollywood Park, where I caught an unexpected performance by Monogem, a new act I have liked since they kicked off their career. Then on Saturday, I indulged in a hearty, mimosa-filled brunch with a friend at Marco's in West Hollywood, before making my way back to the festival with the same group of friends as the night prior. We had VIP wristbands, so aside from getting into the festival, we also got to take advantage of the roller rink, which is never a good call for me, a pure klutz. In between skating around, we caught a lively performance by Azealia Banks and then I did some wandering around by myself. The crowd inside the actual festival comes from all over the place, so it's definitely not a group I am necessarily used to seeing during a typical night out in West Hollywood. But it was fun just roaming around and meeting random people and stopping at various booths. I ended up charging my phone at the Frontiers magazine booth, so I spent most of my time over there.
If I had to pick one out of the three days of Pride, I'd say Sunday was the most fun. The same group of people and I started off the afternoon with a little day party at two of our friends' apartment and then went from bar to bar. Pump, which is Lisa Vanderpump's newest venue, has been a regular hangout for me since its recent opening, and the final day of pride was no exception. My friends and I saw the chic and demure lounge turn into a loud, bottle-poppin' party spot. There were so many people at Pump, and the private little room in the very back was wild, with girls dancing around topless and who knows what else! Despite some tension on Real Housewives of Beverly Hills, former cast mate Carlton Gebbia made a little cameo at her former costar's hot spot. We chatted her up for a bit, and I must say she was delightful.
The night concluded at The Abbey, an obvious staple in Weho and for the weekend. It was there that I saw a ton of familiar faces. Music was blaring until the wee hours of the morning and we stayed until pretty much closing. It was really hard to see another Pride weekend come to an end.