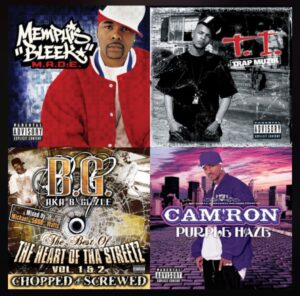 When most people think about the best (and certainly most iconic) era of rap music, it is without a doubt the early '90s (1993 was particularly memorable with Ready to Die, Doggystyle and Strictly for My…, among others).
And believe me, I am all about that time.
But while that magical moment in music stands out, many people may have forgotten about (what I personally consider) the next best era of rap: the mid-'00s.
I have fond memories of dashing home from college classes to catch A.J. and Free's daily rundown of top music videos on BET's 106 & Park. Hmm, or what about Big Tigg on Rap City: Tha Basement? Those were the days, man.
Don't get me wrong, the era does get current radio representation—"Ridin' [Dirty]," "In Da Club," every song by The Game… but there are heaps of tracks from 2003 – 2007 ('03 was epic!) that went from being chart-topping hits to being seemingly swept under the rug—and so many of these former hits are still amazing.
And in a time like today, where everything is an autotuned, unmemorable, poppy piece of homogenized garbage, we seriously need to appreciate the good ol' days.
I was listening to KDAY the other day and I can't recall which song came on, but it set off this idea in me to compile some throwback gems I used to listen to all the time. Believe me, there are so many more tracks than the ones that lie in the playlist below, but consider these old-school jams—by everyone from T.I. and Yo Gotti, to Cam'Ron, Rich Boy, Paul Wall and more—a start. Enjoy!
[divider_flat]