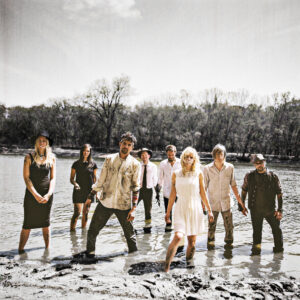 Cloud Cult's multi-member indie rock band is making its way to the City of Angels (a far cry from their chilly Duluth, MN, dwellings!) on April 19th.
A few days ahead of their Teragram Ballroom show in DTLA, the group's lead singer Craig Minowa took a few moments to chat with skyelyfe about his group's special sound (scroll to the very bottom to check out their latest album The Seeker), using music to connect with a higher power and why it's "empowering" to visit L.A.
skyelyfe: You've been described as everything from "cinematic," to "environmental art rockers." How would you try to describe your sound and image/message? How did your unique signature sound come to be?

Cloud Cult: We are philosophical orchestral indie rock. I had a classical upbringing, so I've always enjoyed adding orchestration to the music. As for the lyrics, I'm a firm believer in the power of music as a tool for connecting to higher forces, so that has always been our approach to not only the songwriting but also the performance – a sort of ritual for getting in touch with those mysterious invisible things both on the inside and on the outside of the self.
SL: When it comes to the music you listen to for fun, who, collectively, do you guys particularly enjoy? Anyone who would come as a surprise?
CC: I listen to big band, '20s, '30s and '40s music for most of my leisure choices. It's so far removed from what we do, it helps me relax and just enjoy the music for what it is, rather than overanalyzing it, which is what I do when I listen to music in our genre.
SL: Gearing up for your performance at Teragram Ballroom, what is your take on Los Angeles? What are your favorite places to hang out/eat/shop when given the opportunity? How does it feel to visit LA, being from Minnesota, which is obviously a lot different?
CC: Every time we've come to L.A., our schedule has been booked solid, so we've never had a chance to just go out and enjoy the area. If there's a chance to get to a beach, that would always be my first choice. Being from the Midwest, which has now been frozen for the better part of six months, it's absolutely empowering to come to L.A. and suck up that sun. Given how much entertainment is in that city, we always feel honored when folks choose to attend our show over all of the other incredible things going on at that same time.
[divider_flat]