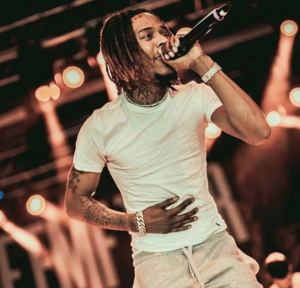 The trap queens of Los Angeles hit up DTLA last weekend!
Fetty Wap—who hit it big in 2014 for rapping about his favorite type of lady—made his way through the City of Angels on Feb. 2 as part of his For My Fans (FMF) tour. The "Trap Queen" performer chose the historic Belasco Theater as his venue, where he gave his fans an intimate performance.
Attendees were greeted with "Fetty Wap"-branded merch as they filed into the theater's cast stone walls. The concert took place amid a backdrop of Spanish Renaissance, moorish and gothic details that line the Belasco's walls. The concert was opened by a handful of both male and female acts from RGF Productions' lineup.
Fetty, who released his latest album For My Fans 3: The Final Chapter on Jan. 18, concludes his tour on Feb. 18 at The Ritz in North Carolina.