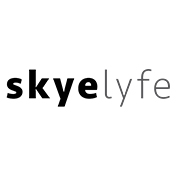 My, how time flies!
Even though so much has happened in the last 365 days, it really does seem like just yesterday that I was sitting on my couch (this was before I put together a crafty little work desk), and sending out emails to let people know that after 3.5 months of WordPress-coding/template agony, I finally launched my music/lifestyle blog skyelyfe.
And now as I celebrate being one full year in existence, there is so much more I want to do in this next phase. I want people to guest report and I want to post personal essays by guest writers (should you have any submissions or ideas, please send to dahvi@skyelyfe.com). I want to start doing events for the site. I have so many ideas regularly flooding my mind.
But at the one-year mark, I am grateful that I've had 162 posts-worth of material I've been able to share on my own platform. Whether it was attending tastings, going to events and concerts, trying new fitness trends, interviewing some incredibly successful musicians (RAC, Cazzette, RAS, Cedric Gervais, O-Town, SomeKindaWonderful's Jordy Towers, DWNTWN's Jamie Leffler, Hayley Kiyoko and Noelle Bean – to name a few), creating playlists, or simply just writing about things and people I love, I've had the chance to share new information solely from my perspective and freely write about whatever I want.
I can't be more grateful to all the publicists, friends, musicians, etc… for supporting what I'm doing from day one. Thank you for giving me content opportunities, reading the site and following skyelyfe on social media (friendly reminder: FB: facebook.com/skyelyfe, Twitter: @DahviShira, IG: @skyelyfeLA).
Here's to another successful 365+ days!
[divider_flat]