With the coronavirus outbreak causing many gyms and studios to close nationwide, now's the time to step outside our comfort zones and find innovative ways to stay in shape.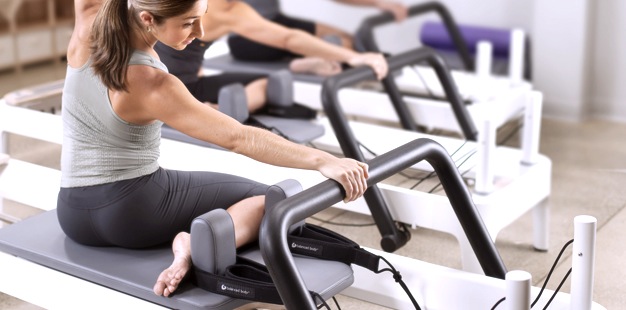 Many instructors and fitness gurus on Instagram are using this opportunity to provide outstanding new workouts that still work up a sweat, but are easy to do at home and, most importantly, are free.
Below, you'll find our definitive guide to the best online workouts that will keep you active amidst the chaos.
Hot Pilates
What: A full-body workout in 10 minutes from one of the most challenging mat Pilates studios in Los Angeles.
How: A YouTube class led by the studio's founder Shannon Nadj
Cost: Free
CorePower Yoga
What: Yoga classes for both beginners and seasoned yogis.
How: A full list of their videos can be found on demand HERE.
Cost: Free
What: HIIT classes that livestream every day, which you can also watch later if you don't get the chance to tune in.
How: You can tune into the livestream on their YouTube channel HERE.
Cost: Free
P Volve
What: A long and lean Pilates-inspired workout. You can choose what areas you'd like to focus on, the ability level and more.
How: Follow along by going to pvolve.com or downloading their app.
Cost: 30 day free trial with no credit card required.
Classpass
What: On demand studio fitness classes
How: Visit their website.
Cost: Free with unlimited access for the time being.
Bar Method
What: Barre fitness classes that combine ballet-inspired moves with elements of Pilates, dance, yoga and strength training.
How: livestream on their IG-TV at various times during the day (their IG has more information).
Cost: Free
Lia Bartha
What: A fitness instructor offering free, Pilates-inspired workouts.
How: Tune in at 10 A.M. PST daily on her Instagram Live.
Cost: Free
Tone It Up
What: Total body workouts on their IG-TV and app.
How: Tune into their IG-TV or download their app.
Cost: Free
The Betty Rocker
What: A certified trainer posting ab sculpting, yoga and HIIT workouts on IGTV.
How: Watch on IGTV or her website.
Cost: Free
Jabs By Gina
What: Fitness instructor Gina DiNapoli posts 15-minute boxing-inspired workouts.
How: Visit her Instagram for a full schedule of her workouts posted live on her IGTV daily.
Cost: Free
Erika Hammond
What: At-home boxing workouts.
How: Watch live on her IGTV daily.
Cost: Free