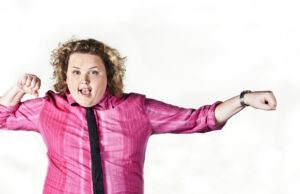 You may recognize Fortune Feimster from Chelsea Lately, and you're about to see a lot more of her!
The comedienne not only landed a stand-up comedy gig at The Venetian Las Vegas, but she also just shot a Tina Fey-produced ABC pilot based on her own life, called Family Fortune.
Fortune chatted with skyelyfe about her exciting new gigs, and also dished on insulting Here Comes Honey Boo Boo's "Mama" June Shannon, famously mocking Khloe Kardashian and learning firsthand that Tina is pretty much the most awesome woman on the planet (you don't say!).
Read on to learn more about Fortune, who will hit the stage on April 25 for the second season of Lipshtick's all-female comedy show, which also features acts by fellow funny ladies Garfunkel & Oates and Cameron Esposito:
skyelyfe: Fortune is actually part of your real name, right?
Fortune Feimster: Yes, it's my middle name and it is also my grandmother's maiden name. She wanted me to actually be named Fortune and my mom thought it was too big of a name, and so I grew up as Emily. When I started doing comedy after college, I was like, "I have this super cool middle name and no one else is named that." I thought it would be a good name to use for comedy, but also, my grandmother had died a few years before that. She had such a huge influence on me, so it was kind of a way of paying homage to her. She saw something in me at a young age before everybody else, so I thought using her name was a great way to remember her.
SL: How did you end up coming on board at The Venetian?
FF: Some of my friends had done the show and recommended me and told me it was super fun. [The Venetian] reached out and I did a show a couple months ago for them. It was awesome. The crowd was fun. When they invited me back, I was like, "Heck yeah!"
SL: What can we expect from your act?
FF: I'm a storyteller, so I talk a lot about my family and growing up in the South and being gay and dating and being an adult. It's stuff pretty much anyone can relate to. It'll be silly and fun.
SL: Do you think you'll be offensive at all?
FF: I'd say I'm more on the lighter side. I'm not a shock comic by any means.
SL: What's the dynamic like between you and other the other females taking the stage? And what's the dynamic like among female comedians in general?
FF: If there is cattiness and all that stuff, I don't experience it. I think you kind of get that how you treat people is what you get back. I have a philosophy of just being nice to people and being a good person. Maybe it was how I was raised or where I'm from. I just try to be friendly and I feel like as a result, people are pretty friendly with me. The people I know are so supportive of each other and genuinely get thrilled when anybody accomplishes something. There's enough out there for everybody.
SL: Since you'll be spending a lot of time in Vegas, where would you say are some of your favorite places to go?
FF: I'm kind of boring. I'm not a big gambler, so I don't do that. Last time, I went to the Divas drag show and that was super fun. I'm a big fan of the eating, so the buffets. I just wander into hotels. I'm not sophisticated enough to know the names of the different buffets. And of course I [enjoy] the Hooters hotel every now and then.
SL: What's your advice for fellow comediennes or women trying to break into comedy?
FF: It takes time for anybody. I've been in L.A. for 12 years and everybody thinks I just kind of came out of nowhere a few years ago when I got on Chelsea. But I'd been plugging away at it for years and years just training and trying to get better. You work really hard at it and do a lot of shows for free and spend money taking classes so that when the opportunity does come, you're prepared for it and you've done everything you can to make the most of it. It's about perseverance and hard work. If you say that you're doing a lot, you're not doing enough.
SL: You were known for some of your impersonations on Chelsea. Which one was your favorite and which got the most acknowledgement?
FF: Definitely Honey Boo Boo got the most attention because we were the first people to really do that with them. We hit it before SNL and other people. Khloe [Kardashian] was a fun one just because I don't look anything like Khloe and I totally did my own take on her where I just yelled at everyone, which is not her at all. But it was super fun and I still have people coming up to me, yelling, "Get in the basement!" So that makes me smile. The one I got the most feedback on was this original character Earl Tidwell, who was this conservative preacher. It was kind of our take on Pat Robertson, where I just said the most awful, offensive things about every person imaginable, and everyone loves it still.
SL: Are you going to be taking any of those signature impersonations to the Venetian with you?
FF: Probably not. It's weird because I started in sketch comedy and then started standup a few years after that, and I've never really joined the two. I have so many characters that I do, but I guess because my standup is so much based on real life, it's weird to just all-of-a-sudden just do this fake person. I haven't quite figured out how to intertwine the two, but maybe one day I'll do a one-woman show or something.
SL: Did you ever receive feedback from Khloe or Honey Boo Boo's family?
FF: [laughs] Well, I do know that about a month after those sketches, I found out [Honey Boo Boo and her family] were in town promoting stuff and we had invited them to be on the show and they declined because they did not appreciate my impression of Honey Boo Boo's mom. They did not care for that, but that's fine, I understand. And for Khloe, I never heard if she watched it or not. I imagine somebody told her, because our E! worlds were very similar. A couple of months after that aired, the Kardashians ended up hosting our show and being on the panels together, so we had all of them in the writers' room and it was hard for me to make eye contact with Khloe. I was nervous. But she's actually super cool. Of all of them, she was the one who was the most carefree and fun, and genuinely funny. She didn't take herself too seriously.
SL: Let's talk about Family Fortune. It's semi-autobiographical, right?
FF: It is. It's based on my family life. I have an interesting family and I came out late in life and I grew up in the South and my parents are divorced. So I thought, there's got to be something here. So I pitched this idea to Matt [Hubbard] and he loved it and really took to it and then we pitched it to Tina [Fey] and she was like, "Yeah, I love it, let's do it!" They have been so amazing ever since. Tina is super involved, she gives amazing notes and she's not just putting her name on this project. She's on every casting call and notes call. I'm in the best hands possible. Matt and I wrote some scripts and he made it genius. It's authentic and funny and I'm proud of it. I just hope and pray that ABC gives us the opportunity to do more with it.
SL: What's the biggest thing you've taken away from working with Tina?
FF: She truly is one of the hardest working women I've ever seen. She is at a place in her career where she's already proven herself ten times over. She never stops. She's constantly working on projects and she gives them her 100 percent. She's so responsible. It's almost like she's a robot, but in a good way. She can do like one hundred things at one time and do them well. I'm in awe of that. She's also a mom and a wife and we'll have calls and her kids will be playing in the background and she just laughs and then gives notes and takes it all in stride. I'm like, "How do you do that?" I would be pulling my hair out. In this business, you tend to meet people you look up to and they don't live up to that idea that you have of them. She's everything you'd want her to be.
Haven't had the pleasure of watching Fortune in action? Check out some of her Chelsea Lately highlights here:
[divider_flat]